23rd February 2023
Barr back at Berwick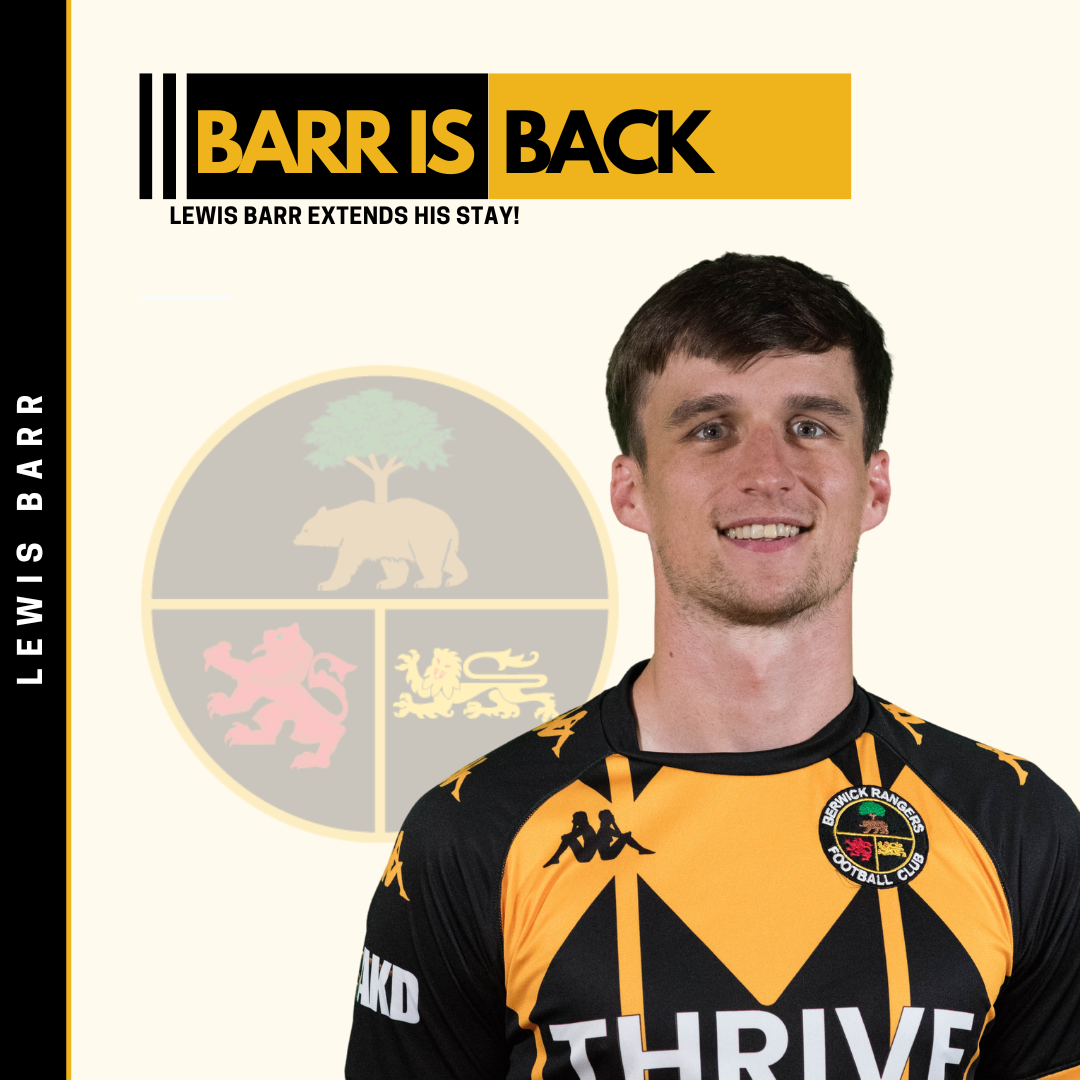 Central midfielder Lewis Barr becomes the latest player to renew his contract at Berwick Rangers for next season, as he confirms he will stay at Shielfield Park in Stuart Malcolm's side for the 2023/24 season.
The former East Fife and Penicuik Athletic midfielder is Berwick's longest serving current player, having joined the club in the 2018/19 season. Barr, now 28 years' old, won 5 end of season awards in 2019/20, the club's inaugural year in the Lowland League. Following a few injury-hit years, 'Lewy' has enjoyed a much better season in 2022/23. In total, he has featured 25 times this season so far, and has started the last 17 games in a row for the club – a run stretching back to October. 
Barr has also netted twice for Berwick this season, in crucial wins against Cowdenbeath and Celtic B. His energy, work rate, and competitive nature have made him a firm favourite among Berwick fans, who will certainly be delighted at the prospect of seeing Barr feature in the famous black and gold for a sixth consecutive season.
Although Lewy was on the receiving end of a swinging elbow in Saturday's win over Open Goal Broomhill, he managed to dust himself off and speak to us about signing his new contract. Earlier this week, Barr said, 'I am delighted to sign again with Berwick. I have loved my time at the club so far and I believe that we are going in the right direction. Berwick Rangers is a brilliant club, full of great people, who have been good to me and my family. I'm about halfway towards a testimonial, so I'm going to try to stick around! Hopefully we can continue our good form and finish as high up the league table as we can. I am looking forward to next season already.'
Berwick boss Stuart Malcolm was similarly pleased to persuade Barr to play at the club for next year. The manager said, 'Lewy has been exceptional for us. His energy, his combative skills, his quality in possession, his pressing on the blind side and winning possession – these have all been sensational qualities for us since he has come back into the team. Along with the rest of the club, Lewy had to get through a tricky patch at the start of the season, but has been great for us since October. 
Speaking about what Barr brings on a tactical level, Malcolm added, 'Lewy works well in the middle of the park with Jordan Sinclair, Jamie Stevenson, or whoever he has to work with. The other midfielders know that Lewy wants to get after the ball and run people down. They can then play with a more defensive mindset, giving Lewy more freedom to win the ball for us. We cannot fault Lewy's work rate, and I don't think he always gets enough credit for how good he is on the ball, especially in terms of keeping possession in tight areas. We're delighted that he has signed. Lewy didn't want to leave Berwick, and we didn't want him to leave – so it's another marriage made in heaven.'
As Barr alluded to in his comments, Berwick are currently going strong in the Lowland League, as four wins in a row has seen the side climb to seventh in the table. This coming Saturday, 25th February, the side entertain league leaders Rangers B at Shielfield Park, in the game of the week in the Lowland League. Kickoff is at 3pm, with the JB Lounge open to supporters from 1.30pm.