19th February 2023
A message from the Board of Directors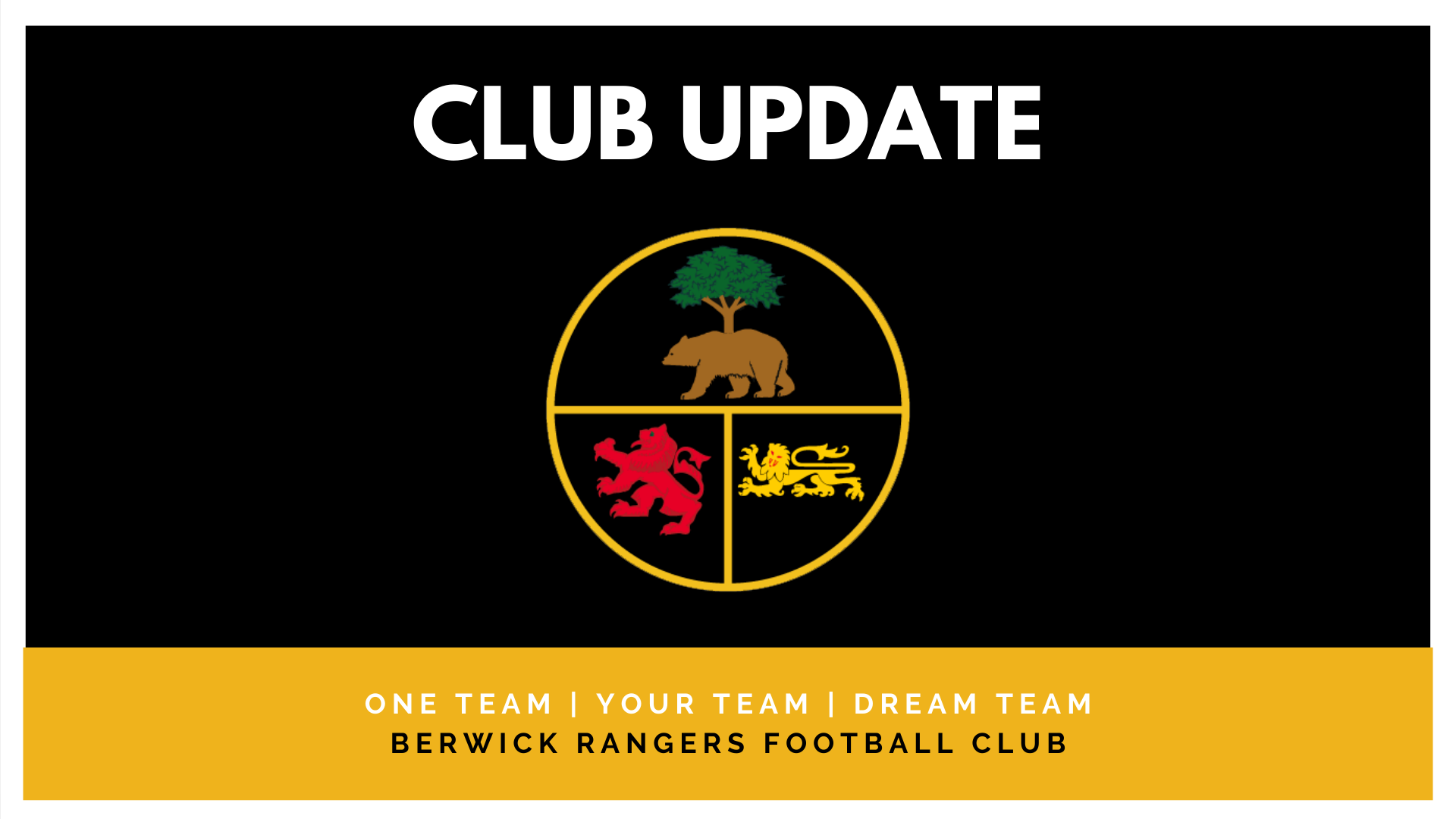 As we mark 4 weeks since the AGM, we wanted to review our first month as a board, look ahead at what is to come for the rest of the season, and thank everyone who has joined us on the first steps of this journey for Berwick Rangers.
When we spoke to our shareholders at the AGM, we shared with them our vision for the club's future, founded on 3 core principles – becoming a force for good, being a great day out, and committing to the long term sustainability of the club. We hope that you can see that we are focused on putting this vision into action. From opening up the JB Lounge to all fans, to engaging with local youth teams, and from upgrading our clubhouse to setting up Berwick Rangers Women's FC, we have been working hard to be as good as our word. We hope you can see that our actions so far demonstrate the dedication we have to creating a successful club, both on and off the pitch, and to giving you the best possible experience on a Saturday afternoon.
However, none of our efforts would have any chance for success without the support of a huge range of people linked to the club. First and foremost within this are our volunteer team. Our volunteers have been with us every step of the way so far, helping us to turn our plans into reality, and ensuring that supporters have a fantastic day. We firmly believe that we have the best team of volunteers in non-league Scottish football, and each and every one of them has given their all in the past 4 weeks, and we are incredibly grateful for all of their hard work.
We have also greatly appreciated the wholehearted support we have received from Stuart Malcolm, his coaches, and his players. We know that one of things that makes football at this level so special is being able to create a close bond between the team on the pitch and our supporters, and Stuart and the boys have certainly helped us to do that. They have given their time for interviews and squad updates, met with youngsters, and spent time after the match talking to supporters, posing for photographs, and signing autographs. We knew when we took over that we had a special group of players at the club, but the past month has shown just how brilliant these guys are. They have given their all on the park, and we have been delighted to see their hard work come to fruition in 4 wins from the past 4 games. We are really pleased that a number of the current squad have put pen to paper and signed contract extensions, and we cannot wait for every Saturday right now.
Finally, we would like to say a huge thank you to all of you – our supporters both near and far, and our friends in the local community. We have been truly overwhelmed by the support we have received from fans, businesses, junior players, their families and their coaches, our Supporters Trust and our Supporters Club. You have come to Shielfield Park in truly impressive numbers to give the team your backing. You have joined us in the JB Lounge before and after the games to share in a warm and welcoming clubhouse atmosphere. You have booked hospitality packages and sponsorships, and trusted us with giving you, your friends and your families a great day out in the Eric Tait lounge on a Saturday afternoon. Stepping into the lounges or onto the terraces on either of the last two home weekends has been a humbling experience for us. We have been blown away by the reaction that we have received; it has been more than we could have dreamt of a month ago. Our sincere thanks, to each and every one of you.
Yet we know that this is just the start of the journey. We are continuing to listen to your feedback and doing what we can to improve things. We know there are things we can still do better, and we will keep on raising the bar of what this club can be. At the AGM, we spoke about wanting to hold an open meeting with all fans, to give a financial update and share more details on our vision moving forward. We are still committed to holding that meeting, and are finalising the arrangements for this. We will update you once everything has been organised, and hope that you will be able to join us.
This coming Saturday is a huge day for us. Our team has won 4 games on the bounce, but are now going to be coming up against the league leaders, a very talented Rangers B side. Our players pushed them hard in the away fixture, and a strong home crowd might make the difference on the 25th. We have seen for ourselves how your energy has lifted the players in recent weeks, but we will need all of your support to help us pick up a potentially huge 3 points, as we seek to climb up the Lowland League table. We know that next weekend is going to be a massive one for football on both sides of the border, and we hope that a great day out at Shielfield Park on Saturday can be the first part of a memorable two days.
Come on the Wee Gers!
The BRFC board – Kevin, Dougie, Nathan and Dan