First team admission:
Admission prices for the 2019/2020 Lowland League campaign are as follows:
Adults: £10
Concessions*: £5
Entry on match day is by cash turnstiles, no advance tickets required.
Season tickets are also available online and from the club office and club shop at Shielfield. To purchase via our online store, click here.
* Concession prices are available to senior citizens, students, Under 16s and unemployed fans. Please provide proof of entitlement.
We also have Hospitality tickets available for most matches – see the link on the Club Shop for upcoming availability
Under 12's can purchase a Season Voucher online for only £10 which works out at only 55p entry per game.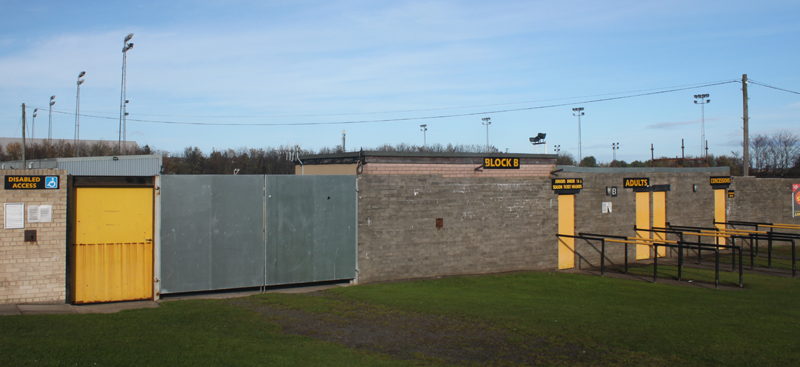 Club Shop:
Why not call in to our Club Shop on your visit to Shielfield?
Conveniently located just inside the turnstiles we are open from 2pm on match days including half time and after the game.
As well as replica kits and leisurewear we have various souvenirs and also old programmes from games back to the 1974/75 season.
You can also purchase items online  via the link.
Sponsor partner 2019/20
Parking:
Parking is available next to Shielfield Park, with no fee. Fans are invited to purchase a 50/50 half-time draw ticket upon arriving for £1, though this is not compulsory.
Address
Shielfield Park,
Shielfield Terrace,
Tweedmouth,
Berwick-upon Tweed,
TD15 2EF
Directions:
By Car:
Follow the A1 towards Berwick until you come to a roundabout by a Morrisons store. Turn right at the roundabout following the signpost for A1 Newcastle.
Continue on the A1 and you will shortly pass over the bridge above the river Tweed. At the roundabout just past the bridge take the first left signposted A698 Berwick along Rotary way.
At the next roundabout take the second exit which takes you along Cornhill Road. At the junction at the end of the road turn left and the entrance to Shielfield Park is almost immediately on your left between the houses (there are road signs for the ground as well as Berwick Speedway at the right hand side).
By bus:
It is recommended that fans jump on a B2 Border Buses (formerly Perrymans) bus to get to Shielfield Park, and ask to be dropped off at Shielfield Terrace.
After heading over the river you'll veer left then travel past Asda to the railway arch.
You will know you're at Shielfield Terrace when you turn right at this railway arch. See link here for timetable/route information
By train:
Berwick railway station is around a twenty-five minute walk from Shielfield Park. To walk to Shielfield Park, come out of the station and turn right onto the main road.
Walk down to the arch, and follow the route specified on the 'By Bus' section.
Taxi's are available directly outside the station, while a bus service also operates from here.
Transport:
Border Buses: Take the B2 for Prior Park and alight at Shielfield Terrace. For further info click here.
National Rail: Alight at Berwick-upon-Tweed. For further info click here.
Why not visit Northern Soul Kitchen on your way to Shielfield?:
Our season 2018/19 sponsor partner Northern Soul Kitchen is a cafe/restaurant in the town centre at West Street which offers
healthy meals and snacks on a pay what you feel basis. Find out more about them from their website. 
What To Do:

Visit Berwick: Things to do in Berwick-upon-Tweed