24th May 2023
Testimonial season announced for club secretary Dennis McCleary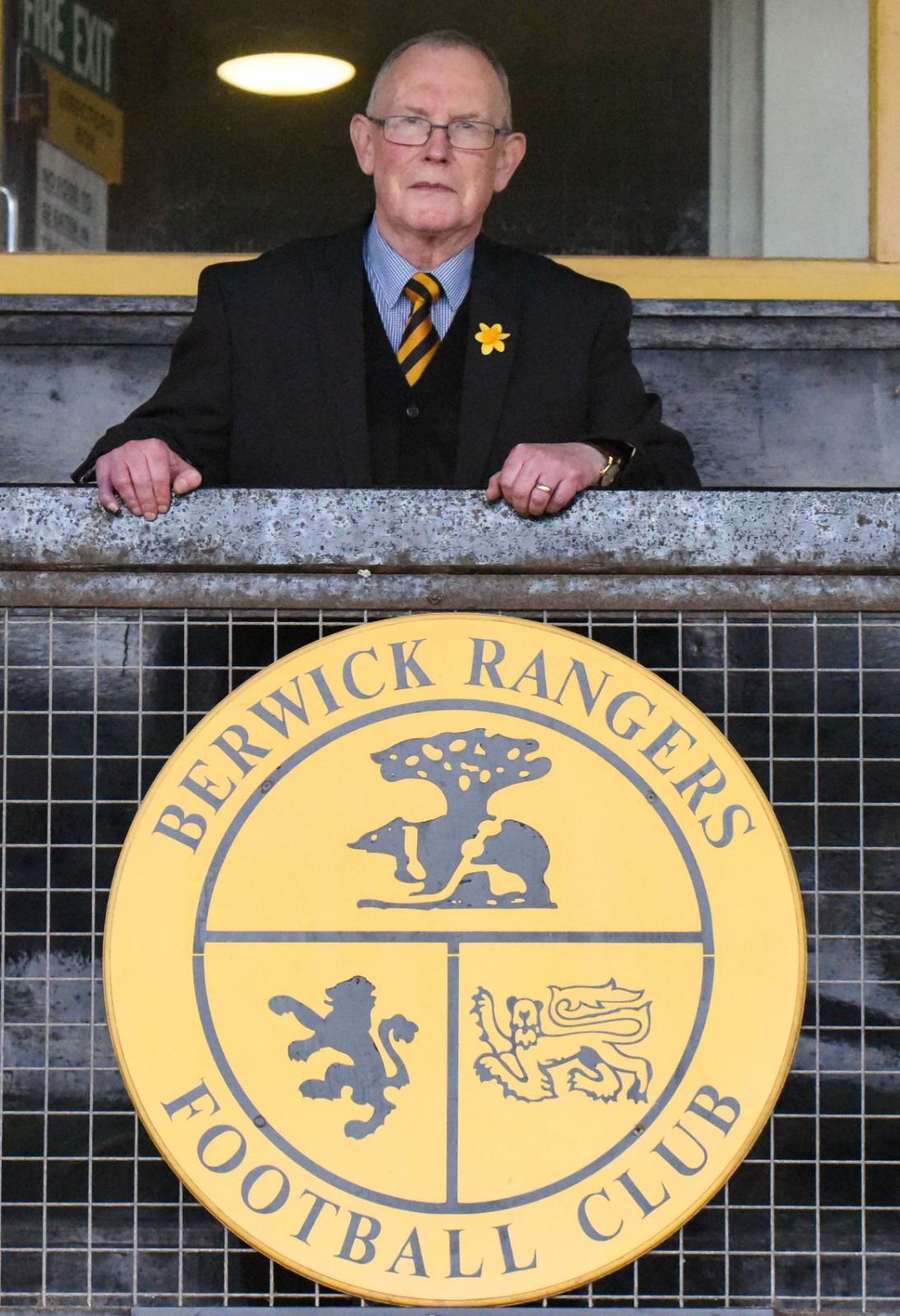 Berwick Rangers FC are delighted to announce that long-serving club secretary – and honorary president – Dennis McCleary will be honoured with a testimonial season.
Dennis began his long association with his hometown club back in 1970, and remains club secretary to this day. His role is absolutely essential to the running of the club, and there will be very few Berwick fans – or visitors to Shielfield Park – who do not know Dennis. It will come as no surprise to many to hear that Dennis is very highly regarded in Scottish football, at the very highest levels. His warmth and enthusiasm for sport is clear to see, and his professionalism has earned him the respect of officials, players, and coaches through the decades. The club is proud to thank Dennis for his service and dedication by supporting his testimonial committee, which consists of former BRFC chairman Brian Porteous and former vice-chairman Craig Forsyth, with Mark McLeman as treasurer.
The first event held for Dennis will be a pre-season testimonial match between Berwick Rangers and a Sunderland AFC XI on Saturday 15th July, with a 3pm kick off at Shielfield Park. The testimonial committee would like to extend their thanks to JH Greenwood & Company, Chartered Accountants, who will be match sponsors, and to matchball sponsors Waughy's Cabs. Brian Porteous and Craig Forsyth will sponsor the man of the match award. It will be a pleasure to welcome Sunderland to Shielfield Park to mark such a great occasion. The fixture holds special memories for Dennis, who built a friendship with legendary FA Cup winning Black Cats' manager Bob Stokoe. Stokoe sent the Sunderland first team to Berwick in pre-season on several occasions in the 1970s, liaising with Dennis over the phone to ensure his team got a run-out on the Shielfield pitch.  All involved in Dennis' testimonial would like to place on record their thanks to Sunderland AFC and their Head of Academy Operations Leann Cowperthwaite for her help in organising this fixture.
Entry for the match is by donation and advance donations can be made online via the Fanbase app, and are recommended at  £10 for adults, £5 for concessions, and £3 for under-16s.
Even if you can't make the match, fans are invited to donate via a virtual ticket so that you can still show your support to Dennis.
Hospitality packages for the match are also available to book for a suggested donation of £40 per person. This will include a two course pre-match lunch and a halftime pie in the JB Lounge. Hospitality for this match is sure to be popular – so with limited spaces available, anyone interested should book via Fanbase to secure their place.
It is hoped that many ex-players and officials will be able to join fans on the 15th July to recognise Dennis' achievements.  It would be great to see a big crowd in attendance for a man that has served the football club so well. A dinner with Arbroath manager Dick Campbell and former referee John Rowbotham is planned for October this year, with more details to follow very soon.
In reflecting on the honour of being awarded a testimonial season, Dennis had the following to say, 'I am extremely grateful to Berwick Rangers for granting this testimonial for the fifty-plus years I have worked at the club, starting in 1970 when Harry Melrose was manager. It is a lovely gesture and I am very grateful to Sunderland AFC who have agreed to send a team to play Berwick Rangers at Shielfield, for the game on Saturday 15 July.'
McCleary added, 'I have taken the odd short-term break over the years, but in terms of my service for the club, I think it will be 50 years all in. However, it is never about who is secretary or any other official. It is about the club, as no one is ever bigger than the club.'
When asked to speak about his highlights, Dennis said, 'There have been some great times including two championships and great cup ties against the likes of Celtic, Rangers, Hearts, Hibs and Aberdeen. Yet there have also been sad times, particularly with the passing of so many good people I worked with at Shielfield.'
Finally, Dennis commented, 'Many, many thanks to Craig, Brian and Mark who are fronting as the committee. I cannot thank them enough. I would like to add that once the testimonial year is over I will be making donations from it to at least two charities, which will be announced later'.
The Berwick Rangers v Sunderland XI match on Saturday 15 July will mark the culmination of the Wee 'Gers' pre-season programme – with the Parks Motor Group Lowland League season due to kick off on Saturday 22 July. Details of the rest of Berwick Rangers' pre-season fixtures will be announced shortly.
⬇️ Get your tickets here ⬇️
https://app.fanbaseclub.com/Fan/Tickets/SelectType?fixtureId=2820