19th October 2020
Streaming Information – BRFC vs East Kilbride
The club is pleased to confirm details of this weekend's live streaming service ahead of our Lowland League clash with East Kilbride FC.
Following a successful test over the weekend, in which club officials were able to replicate and resolve the errors which caused our first-ever match stream offline twice during last weekend's match with Vale of Leithen, the club are now confident that it can offer a quality stream.
To thank fans for their patience and support, the club will be offering this weekend's streaming service for just £6 – a fee that will also include a digital match programme with all purchases.
With streams set to be £6.75 and programmes priced at £2, fans will make a total saving of £2.75 when they purchase our live match stream.
A request from the club
In order to ensure all supporters who order the stream receive the email with a match link in, the club asks its fans to make their orders in good time, and ideally ahead of this weekend.
Purchasing the stream early will mean we can offer better support to anyone experiencing issues with their order or the delivery of the order email.
Those who order on match day and particularly closer to kick-off are at risk of not receiving their stream, and as orders are non-refundable, this is really to nobody's benefit. We'd much rather see you in the stream, so please order now (link below).
Ordering the stream
Last week, some supporters experienced issues in receiving their orders. This is essentially because the step-by-step process included in the product description page were not followed – most importantly, a step that requires you to 'opt-in' to receiving emails from the club.
Below you can see the tickbox which must be checked if you are to receive the email including the link to your match stream.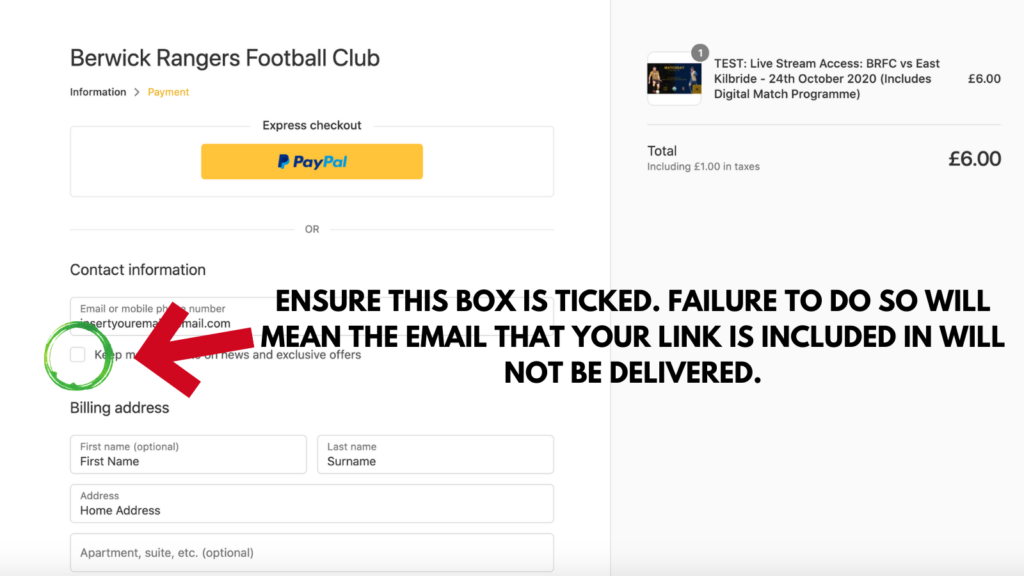 Please note that streams are non-refundable, and though the club will strive to help those who have made a mistake during the order process and those who are struggling to access, the busy nature of matchdays makes it extremely difficult to offer effective support.
Accordingly, we advise you to purchase a stream well in advance and contact the club for any support needed if you have failed to receive your email in good itme.
Streaming FAQs
The club has launched a new web page containing information on live streaming FAQs.
To view our live streaming FAQs, click here.
Can contact social@berwickrangers.com.