IMPORTANT: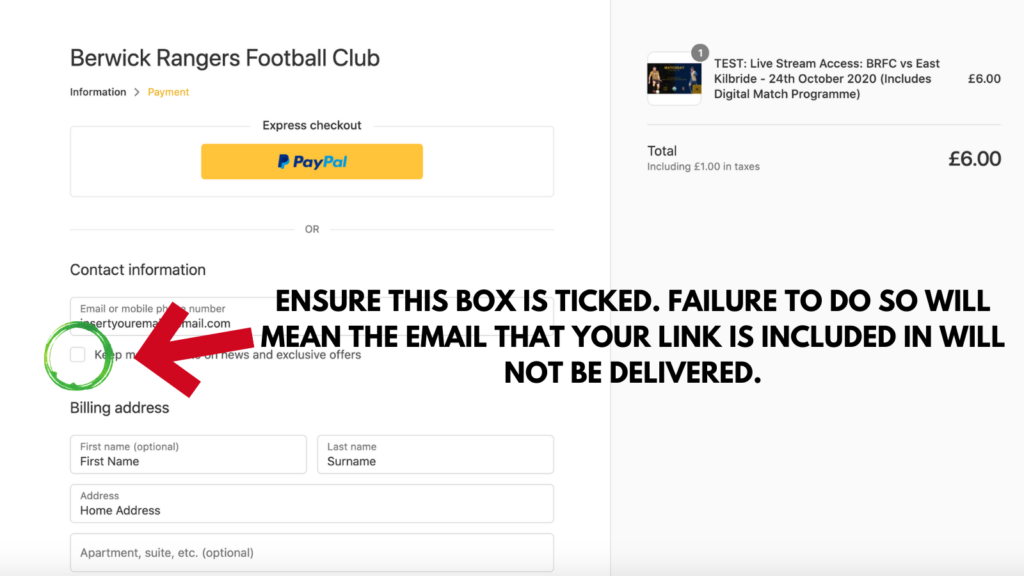 Before you order a BRFC Live Stream
– By ordering any Berwick Rangers Live Stream from our online store, you agree that the stream is for personal or residential use only and that you have read through our FAQs.
– To avoid disappointment, please ensure you have a stable internet connection prior to ordering.
– Please note that all stream purchases are non-refundable.
– When ordering, follow the step-by-step guide in the product description via the online club shop purchasing page. Failure to do so will result in the club being unable to deliver your link.
FAQs
Can I chat with fellow fans during the match?
Yes. MyCujoo has an unintrusive chatbox alongside the live stream. For supporters who prefer an uninterrupted full-screen experience, simply click the square button in the bottom right of the stream.
Can I go full screen?
Yes, click the square button in the bottom right of the stream?
I want to watch on my TV screen. Is that possible?
Yes. The easiest way to do this is by connecting your device to your TV (for example, via HDMI cable, Apple's AirPlay or Google's Chromecast. Some TVs may also have built in web browsers capable of playing the live stream.
The club advises fans hoping to watch on TV to have their own test run at things before ordering, using one of the many free games available at any time via MyCujoo.
I've ordered but haven't received my email yet. What should I do?
When ordering, you should receive two emails. One will be from the club's online store confirming your order, while a second will include the link to the live stream. Please note that the second email generally takes up to 10 minutes to deliver, though is generally closer to 5.

If after 5-10 mins you only have the email titled 'Order Confirmation' but not one titled 'Your Live Match Stream', please first check your spam folder. We have confirmed reports of emails dropping into the spam folders on @hotmail email addresses, so bear this in mind.
If you still do not see the email after 10 mins, it is likely that you haven't ticked the 'Keep me up to date on news and exclusive offers' box in step five of the instructions below. Please repeat the ordering process and ensure you tick the box.
If you still have no joy, please contact the club via social media or club@berwickrangers.com and we'll do our best to assist you.
How much are live match streams?
Following our free opener, live streams will be priced at £6.75 per game.
Can I watch on my phone?
Yes. MyCujoo has a dedicated app available on iOS and Android.
I need support. Can you help?
We'll certainly try wherever we can. To increase the likelihood of a quick response (where possible), please contact us via social media. Please bare with us – this is new to the club as much as it is to you and the media team will likely be very busy on matchday, so we can't guarantee we'll always be able to find a solution or reply immediately.
I'd like to send some feedback to the club. Where do I send it?
We welcome any feedback. Please email it to social@berwickrangers.com.
Where do I go to order a stream?
Visit our online store and head to the Live Streams page.
It says buy with PayPal, but I can't. What should I do?
For our opening game, click 'Add to Cart' not 'Buy with PayPal' and check out as normal – this is a free game so no payment is taken. The club is exploring options to accept card payments by the next match.
I'm in Club 1881. Do I still need to pay for streams?
Of course not. You're in Club 1881, you get them free and your email should be delivered on matchday mornings. If you haven't received yours, please contact us via social media. If you're not in Club 1881, stop being silly and join.