2 Jack Cook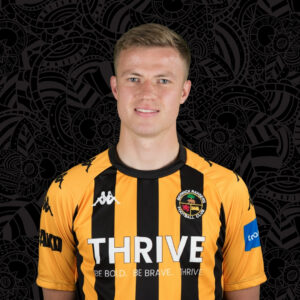 Date of Birth: January 26, 1998
Previous Clubs: Livingston (youth)
Hometown: Dunbar
Cook, who is a former youth player at Livingston, is the longest serving player currently at Shielfield Park.
Originally on trial in the pre-season of 2016/17, he departed for a spell in the USA before returning to Scotland and joining the club in January 2017.
A key member of the club's Development Team, he soon progressed through to the First Team, making seven appearances in the second half of the 2017/18 League Two campaign and 40 appearances across all competitions in 2018/19.
He also featured heavily for the 'Gers in the team's inaugural Lowland League campaign, making 23 appearances, before committing to the club for the 2020/21 season.
After starting that season strongly, Cook sustained a nasty head injury that kept him on the sidelines for the remainder of the curtailed 2020/21 season. In the spring of 2021, Cook signed a new two-year contract until the end of the 2022/23 season.
Player Sponsor
Jack's kit is kindly sponsored by Funky Foto. Based in Manchester, they are the UK's Premier Dance and Event Photographers, and are owned (and founded) by 'Gers fan Doug Stenhouse, who possesses over 25 years experience in photography.
The company's reputation as outstanding dance photographers has seen them travel as far North as Aviemore and across international waters to the likes of Malaga to cover events in the past. Trained at the renowned Blackpool Photographic College and operating as Funky Foto for over 15 years, Doug works alongside fellow photographer Lindsey McAdam, who joined the company in back in 2009.
In his spare time, Doug also helps the club out by writing match previews for the club site, and has also provided photography for the club in the past.
The club would like to thank both Doug and Funky Foto, who are also board sponsors at Shielfield Park, for their continued support.
Website: www.funkyfoto.co.uk
Phone: 07974 137277
Facebook: FunkyFoto
Instagram: @FunkyFotoUK
.