23rd January 2023
New Berwick Rangers Chairman elected
Berwick Rangers Football Club can confirm that local businessman Kevin Dixon has become the club's new Chairman at tonight's AGM at Shielfield Park.
Dixon takes over from Brian Porteous, who signalled his intention to step down from the role back in November following a three-year tenure, which was his second spell as Chairman.
Fellow director Jamie Curle has stood down alongside Porteous, with Nathan Thompson, Douglas Younger and Dan Crowe remaining in their roles to help continue to take the club forward.
"As a passionate advocate of local football and as a Berwick resident, I am delighted to assume the position of Chairman at my hometown club," said Dixon, who stood down from his role as Chairman of Shielfield Park neighbours Tweedmouth Rangers FC yesterday to take up the position.
"I'd like to place on record my sincere thanks to Brian and his fellow directors who, after putting me forward back in November, have been incredibly cooperative in terms of giving me an insight into club operations and this has enabled a seamless transition."
Dixon has signalled his intention to host an open meeting at Shielfield Park at some point in February to outline his plans for the club, with a date to be confirmed shortly.
However, his vision – backed by his fellow directors – is clear: to build a local Football Club that is both successful and sustainable on and off the pitch.
Within this, there are three key pillars:
Becoming a force for good.

Berwick Rangers will become a force for good and will turn Shielfield Park into the epicentre of local football. The facilities can be extended to offer space for education and collaboration across the community and local children will see a path from where they are to the first team, supported by qualified coaches and a partnership with the first team.

Being a great day out.

 There is a commitment to improve the matchday experience, expanding the proposition for fans including pre and post-match bar access and improving Club 1881 membership in partnership with current members. In addition, we will work with local charities to bring football experiences to a range of groups, giving people the opportunity to have a great day out.

Being here for the long term.

 We will invest today to reap the rewards tomorrow. We will invest in the next generation of talent today to build the Berwick Rangers FC of future generations. We will address urgent stadium maintenance issues and annually improve and manage the facility.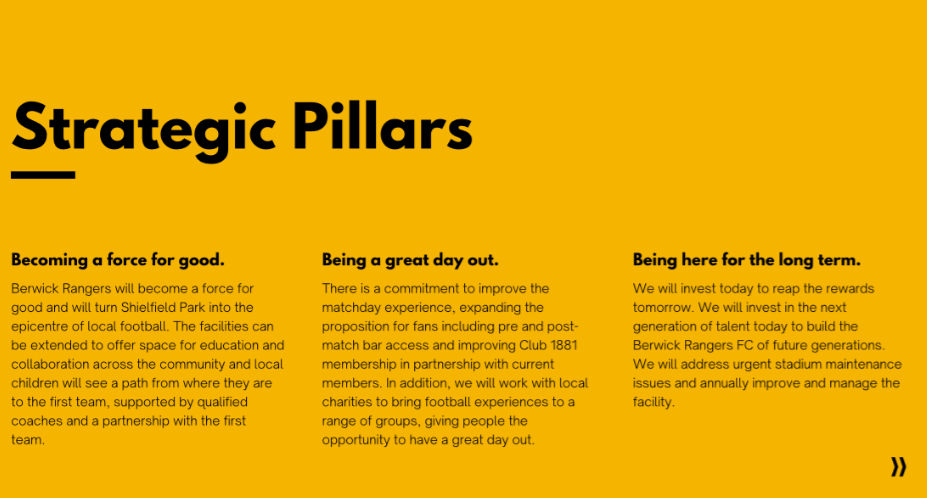 More information on this will be shared at the open meeting but, in the meantime, if you have any questions, please contact club@berwickrangers.com and we will get back to you.