30th January 2023
A new matchday experience at Shielfield Park – starting this Saturday!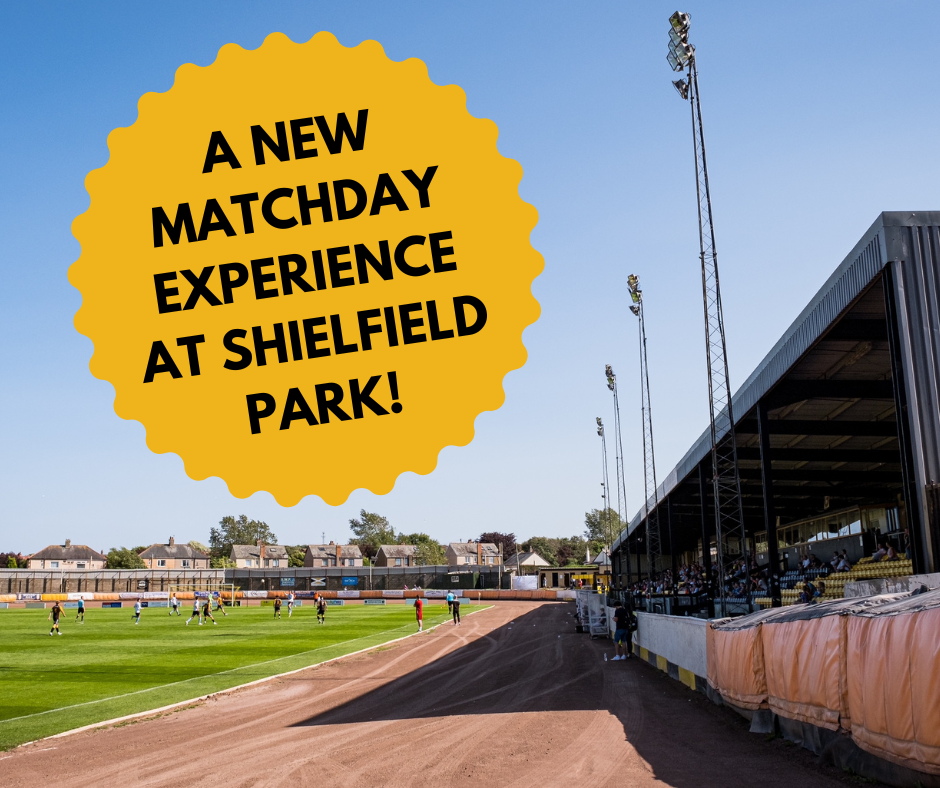 Ahead of our next home game against Cumbernauld Colts (Saturday, February 4; 3pm KO), Berwick Rangers are pleased to unveil some changes which we hope will enhance the matchday experience for all fans at Shielfield Park. 
The most important change is that we are opening up the JB Lounge to all home and away fans – before the game, at half time, and after the match has finished. We hope that this will create a welcoming clubhouse atmosphere for fans to gather and enjoy a day out at Shielfield.
There will be pies for sale – courtesy of Ged's Butchers of Castlegate, Berwick – as well as hot drinks, soft drinks, and a full range of alcoholic drinks. We'll be inviting BRFC legends and members of our current squad to sample the atmosphere too, so you may well catch a well-known face or two inside our lounge.
For Saturday's game, we will be offering all bottled and canned beer and cider at £2 each, as an introductory offer and to say thank you to our fans for your valued support through this season.
So please join us in the new-look JB Lounge for this season's remaining home games, starting this Saturday! We can't wait to welcome fans old and new to Berwick Rangers! If you want to know more, keep reading!
Q: How do I get to the JB Lounge?
A: Once you have come into the ground via the turnstiles, the JB Lounge is accessed via the directors' box at the back of the main stand. Go into the directors' box and go through the door on the left. The JB Lounge is then on your left-hand side.
Q: How much does it cost to get in?
A: Access to the JB Lounge is now included in the cost of your ticket, season ticket, or Club 1881 membership – so once you are in the ground then entry to the JB Lounge is completely free!
Q: What are the opening times for the JB Lounge?
A: The JB Lounge will be open on all Berwick Rangers home matchdays. It open at 1.30pm and close at 6.30pm, although open times may vary for any special events that we organise.
Q: What will be on offer in the JB Lounge?
A: As well as a warm place to sit, talk, and watch TV on our new big screens, there will be pies and a range of drinks for sale. As an introductory offer, all cans and bottles of beer will be priced at £2 for this Saturday's game against Cumbernauld (4th February).
Q: Will draft beer be sold in the JB Lounge?
A: We have listened to your feedback on the lack of draft beer on offer in the JB Lounge. We will be putting draft beer back on the menu so that you can enjoy pints. They won't quite be ready for Saturday's game, but we are working hard to get them installed as soon as possible.
Q: What else are you doing to improve the matchday experience?
A: We are reviewing many aspects of the fan experience to make sure coming to Shielfield Park is the best day out it possibly can be for home or visiting fans. We've already made a number of improvements to the clubhouse, which we'll share with you in the coming days, and which we hope you can see for yourself on Saturday. More improvements will hopefully be rolled out over the next few months, but if you have any ideas, let us know via email at club@berwickrangers.com. 
Q: I'm a Club 1881 member. How does this affect me?
A: Club 1881 members should hopefully have received an email telling you about Club 181 Day, which we are also hosting this Saturday for all Club 1881 members. If you are a Club 1881 member and haven't received that email, let us know at club@berwickrangers.com. Going forward, Club 1881 members will be entitled to free hot drinks and a free pie at every home game in the JB Lounge. If you aren't a Club 1881 member yet, and want to take advantage of this offer as well as entry to all home Lowland League games and a range of other benefits, you can join Club 1881 at: https://berwickrangers.com/club1881/ 
Q: Does this mean there's no more hospitality offering?
A: We are still committed to delivering an excellent hospitality experience for anyone who wants it, including those who have purchased a corporate season ticket. Our hospitality guests will still have access to the JB Lounge along with all other fans, but will also be able to enjoy the game from the comfort of the directors' box – which we have already improved since the last home game. We are going to be offering two revamped hospitality packages for the remainder of the season – one which comes with a free pie, free drink, and free programme priced at £25 per person, and a second deal which includes an afternoon tea, free drink, and free programme priced at £30 per person. If you have already bought hospitality for one of our remaining fixtures, or are an existing corporate season ticket holder, we will be in touch with you soon.
Q: Does this mean there's no more sponsorship packages?
A: We are definitely still offering sponsorship packages for all of our home games. There are still three sponsorships on offer per match – match sponsorship, man of the match sponsorship and ball sponsorship. We have set up an exclusive sponsors' lounge separate to the main JB Lounge, and match sponsors will be able to pick from either of the new hospitality options we have created. Sponsors will also be able to watch the game from our improved directors' box. We will be in touch with anyone who has already bought a sponsorship package for one of our remaining matches.
Q: I have a disability – how can I access the JB lounge?
A: If you have a disability and are worried about accessing the JB Lounge, please get in touch with us at club@berwickrangers.com and we can confirm access arrangements to ensure you can join us.
Q: Are children welcome in the JB Lounge?
A: Children and families are definitely welcome in the JB Lounge!
Q: Are dogs welcome in the JB Lounge?
A: Well-behaved dogs are allowed in the stadium, and in the JB Lounge, provided they are kept on a lead. 
Q: Are there toilets in the JB Lounge?
A: There are toilets opposite the entrance to JB Lounge.
Q: I want to help BRFC make matchday even better! What can I do?
A: We are a volunteer-run club, and are always keen to find new people to help us out. Existing matchday volunteers should have received an email from the club earlier this week inviting them to bring a family member or friend to experience the JB Lounge on Saturday. If you are interested in joining our team of volunteers, please let us know at club@berwickrangers.com.