13th December 2021
Mid-season review: 2021/22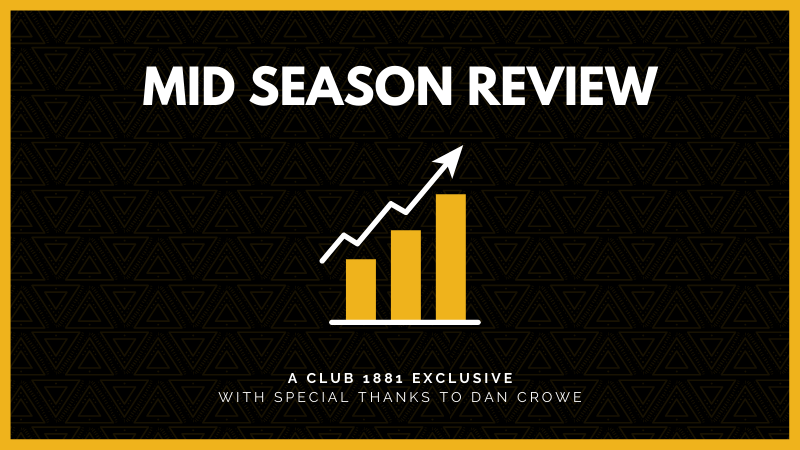 Following on from our 2-0 defeat to Civil Service Strollers back in late November the club's Data Analyst, Dan Crowe, took the time to dig into the archives and reflect upon the first half of the 2021/22 campaign, comparing it to last season as a whole.
The 'Gers finished their 2020/21 season in 11th placed having played 13 games, winning five, drawing once and losing on seven occasions. At the time of writing, the 'Gers have just won two on the bounce after consecutive 3-0 victories away at Gretna and at home to Broomhill, leaving Stuart Malcolm's side sat in 8th place – with the two sides that are new to the league but who will be removed from the final league table, Rangers B and Celtic B, both sat above the Dream Team.
And Dan's stats reveal that the progress of Malcolm's men is no coincidence, with an increase in points per game so far this season fuelled by a more fruitful frontline, with the 'Gers averaging well over double the amount of goals per game as they did last season. The success is admittedly skewed somewhat by an 11-0 demolition of Vale of Leithen back in October – though that the 'Gers only ran out 2-1 winners in the same fixture back in 2020/21 is perhaps telling too.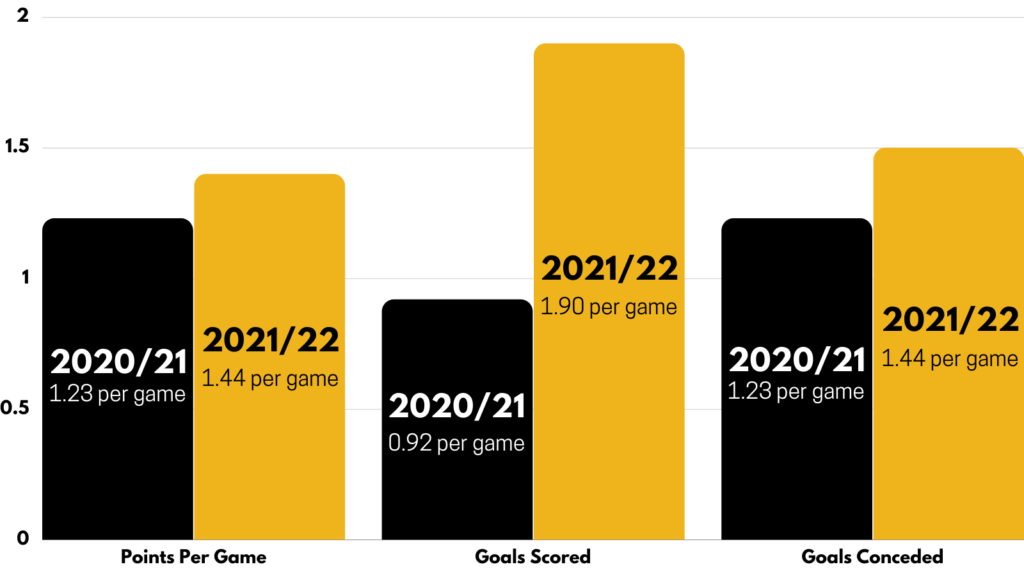 However, there remains room for improvement defensively where the 'Gers have conceded more per game so far this season than last. Despite the decline, the 'Gers have only been beaten by more than two goals on two occasions this season – going down 3-0 to the table-topping Bonnyrigg Rose and being hit for 6 by Rangers B.
Consecutive clean sheets since these stats were taken will be very much welcome news to Stuart Malcolm, who recently moved to bolster his backline with the addition of Michael Travis from Forfar Athletic and who has looked impressive since his arrival.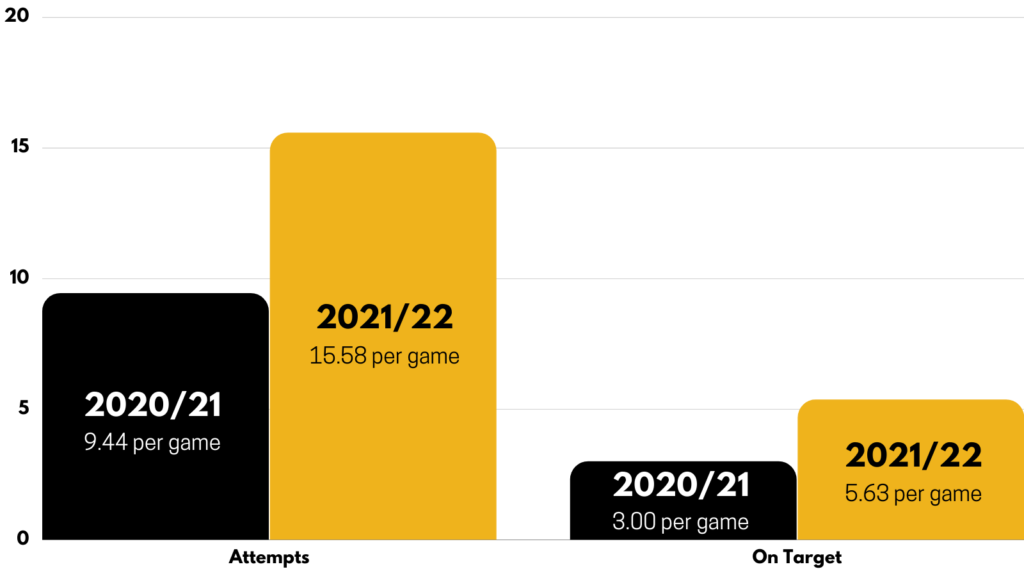 Diving deeper into the attacking stats, it's easy to realise the dramatically increased threat the 'Gers possess in front of goal this season – taking on average 6 more attempts per game than they did last campaign. The high-yielding nature of Berwick attacks has also led to a rise in shot accuracy, with 35.4% of Berwick efforts finding the target – a rise from 31.8% back in 2020/21.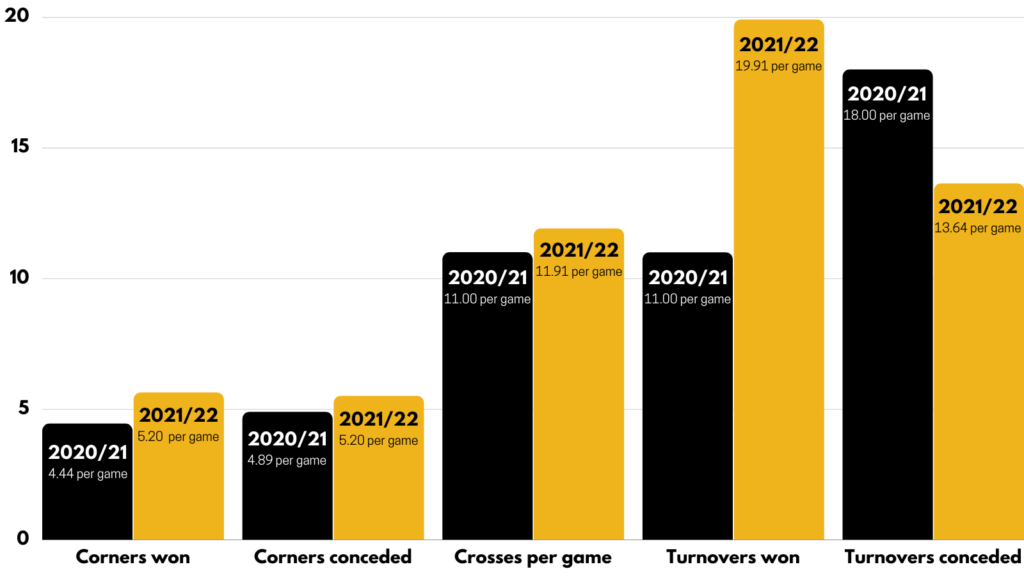 And the improvements going forward extend beyond goals too, with Berwick having forced more corners per game and having registered more crosses per game too. Perhaps most impressively, there has been a dramatic increase in turnovers won per game, with the Black and Gold army now averaging almost 9 more turnovers per game than last season, with the combative approach perhaps helping to drive the increased success rate of the 'Gers going forward.
Defensively speaking, Malcolm will also be pleased to see that his side aren't being turned over as often as they were last season too, suggesting he oversees a side that are comfortable and careful on the ball, but that know how to turn possession into chances. An increase in corners conceded might not be as pleasing to hear, but provided the ball stays out of the net the primary objective is met!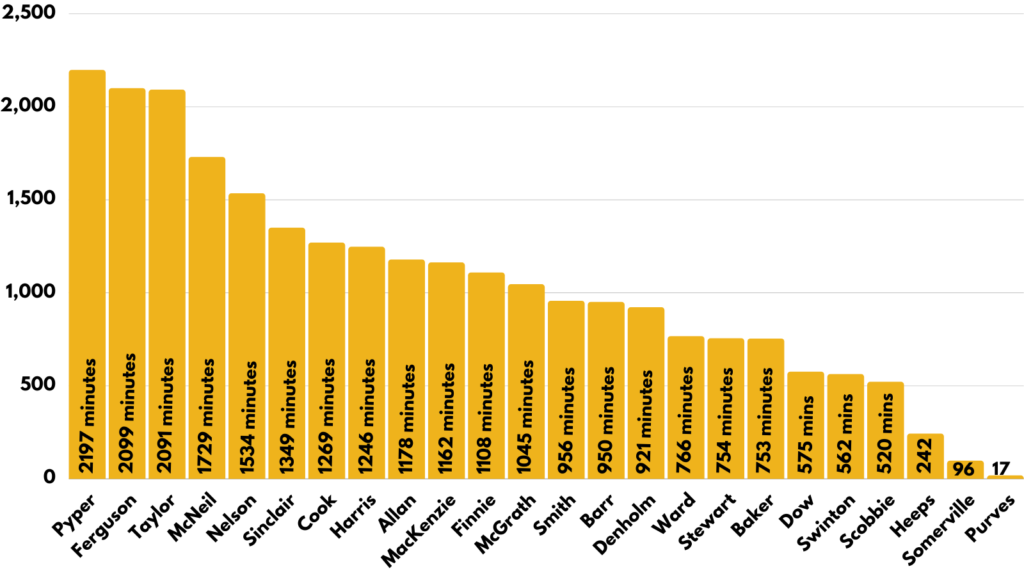 Perhaps unsurprisingly given his role as club captain, Jamie Pyper is the mainstay in the Berwick XI and heart of the Stuart Malcolm's defence having racked up the most game time for the club so far this season, playing in 2197 minutes of competitive action. Defender David Ferguson follows closely behind Jamie, though interestingly the total game time for other defenders at the club is a fairly mixed, and perhaps raises the thought that any defensive decline could be attributed towards the lack of a settled defence.
Of course, Malcolm's hands have been tied in this regard at various points throughout the campaign, with injuries to the likes of Jack Cook, John Ward, Tam Scobbie and Kieran Somerville all limiting their game time. However, that has also created opportunity for others – including the likes of Grant Nelson, who demonstrated his versatility when filling in at right back for a spell when options were limited.
Giving game time to younger players is clearly something Stuart Malcolm isn't afraid to do either, with the development of youngsters including Andy McNeil, Ben Swinton, Aidan Denholm, Cameron Dow and Ciaran Heeps all aided by their minutes on the park.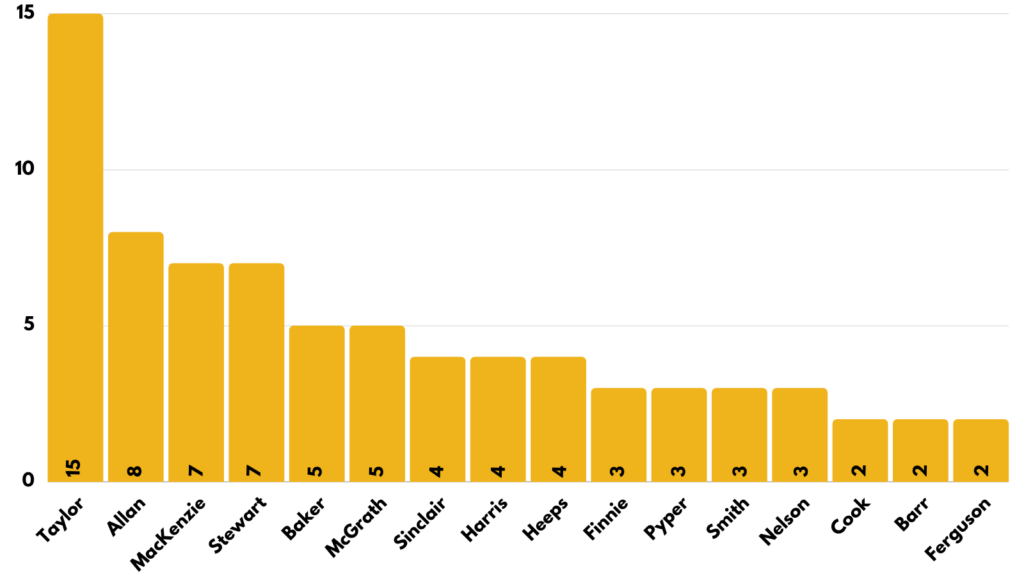 The club's increase in crosses per game might not come as much of a surprise to those who've seen the performance of Graham Taylor this season, whose fantastic contribution has been highlighted by his goal contributions (goals and assists) – which tally up to near double of any of his other teammates. The winger's efforts this season have caught the eye of many – and 'Gers boss Malcolm was quick to ward off any potential suitors by tying the midfielder down to a new deal recently.
Another player who is catching the eye is forward Sean Stewart, who has recently emerged after finding fitness following an injury which kept him out of the entirety of pre-season to chip in with 7 goal contributions at the time of these stats being captured – or one goal contribution every 107 minutes. Of course, Sean has also since netted another couple of goals in as many games since the Civil Service defeat, continuing his fine form and boosting him up in behind Graham Taylor in the goal contribution rankings.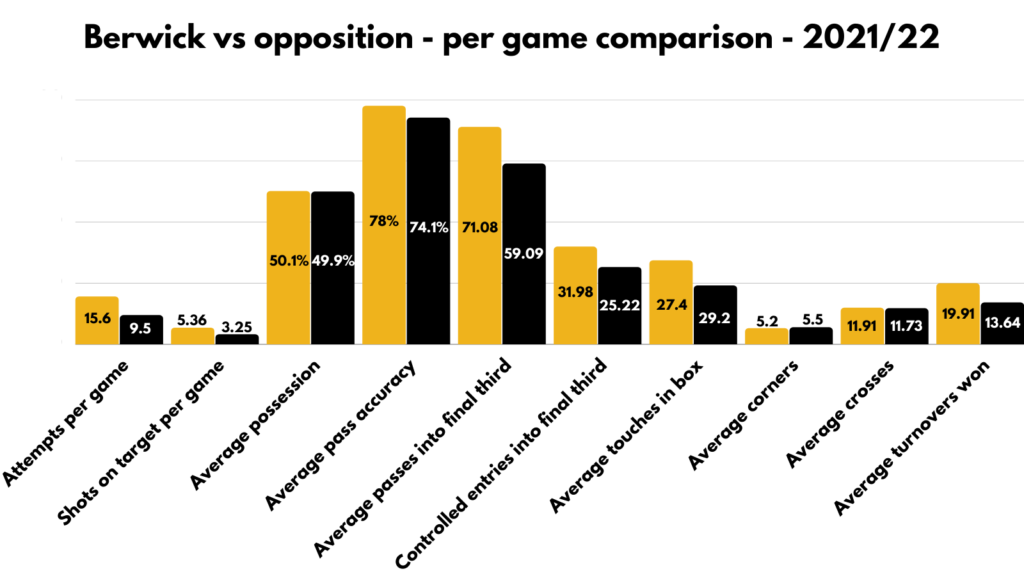 And finally, the positives of Dan's analysis are further reinforced by matchday comparisons of this season only, where we tend to better our opponents in almost every department. Malcolm will be particularly pleased with how much more effective his side are at attacking than opposition – suggesting progress and success at both ends at the pitch.
With improvement clear between so far this season and last, Malcolm and co will now look to continue the positives into 2022 – where we will be looking to push for the highest league position possible ahead of what may look like a promising 2022/23 if Berwick's progress continues at its current rate.