22nd April 2022
Lowland League announces partnership with FC United To Prevent Suicide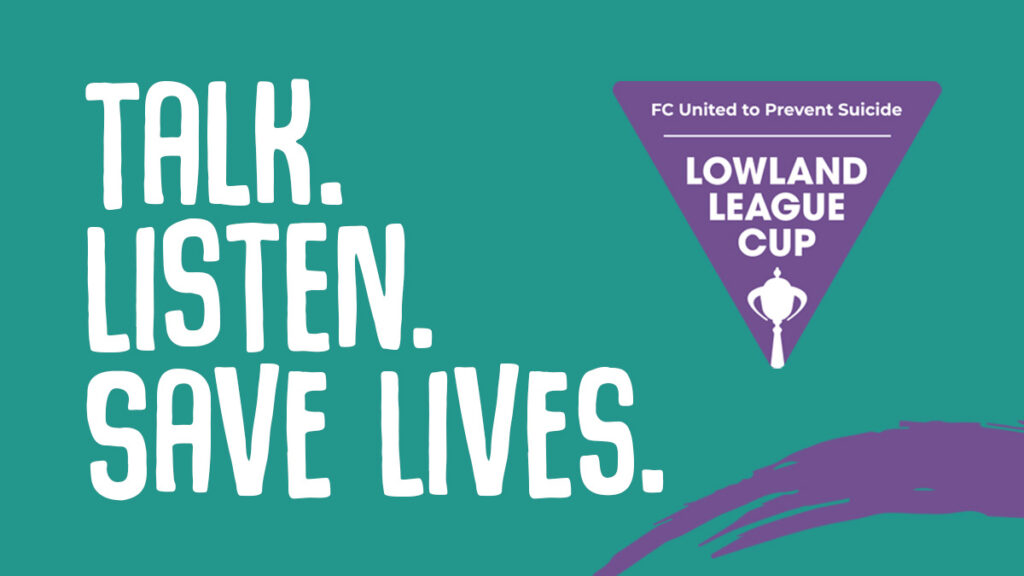 The Scottish Lowland Football League has revealed an exciting new partnership with FC United To Prevent Suicide (FC United).
The move will see the naming rights of the Lowland League's League Cup competition gifted to a movement that is made up of people from all across Scotland, who are united in a shared belief that each and every one of us has a role to play in preventing suicide. The trophy will now be named The FC United To Prevent Suicide Lowland League Cup.
Since its inception, the FC United campaign has generated widespread support throughout the Scottish football community and further afield – backed by high-profile ambassadors
and filmed conversations with those with direct experience of suicide and loss in their lives.
Lowland League board member Chris Ewing – chairman of Caledonian Braves – was courageous enough to contribute a first-person written piece on his own mental health struggles over the years.
It's hoped that the Lowland League's backing can further strengthen a campaign that has made a real impact and will continue to do so.
Lowland League chairman Thomas Brown said: "When we say we want to make an impact in our community, it's not just a case of throwing around a cliché.
"We are focused on doing whatever we can to help the FC United To Prevent Suicide campaign, and the gifting of naming rights for the League Cup is a statement of intent.
"Since the campaign's launch we have been in talks with those behind it, as it's a cause I think we can all get behind and relate to. We wanted to support in any way we can, and this
is the first step in that process.
"On a personal level, I read the account of Chris Ewing's mental health journey for FC United and was inspired by his honesty and determination to help others.
"Whatever they need from us, we are here to assist and there will be more to come in the weeks ahead leading up to the Cup Final."
In 2020, the National Suicide Prevention Leadership Group (NSPLG) launched the United ToPrevent Suicide social movement with the goal of making Scotland the most supportive country on earth. Its aim was to break the stigma around the word 'suicide' and get people across the country to pledge their support.
Although an initial success, young men in particular were not engaging. FC United was created, in part, to target a demographic deemed to be most at risk – harnessing the power of football to spread the simple, important message that we need to Talk, Listen and Save Lives.
Kirstie Cusick, Social Movement Development Manager at United To Prevent Suicide, added: "We welcome the gesture from the board at the Lowland League to offer the naming rights to their League Cup, and additional support beyond that.
"They were quick to offer their support to the campaign from the off, and we're excited to develop that partnership."