10th December 2021
Foodbank Collection | 11th December, 21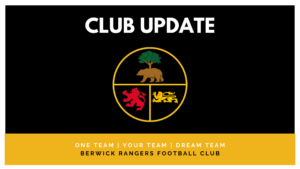 The club is pleased to announce that they will be supporting a foodbank collection this year in the run-up to Christmas in a joint effort with the Supporters Trust, Supporters Club and St Andrews Berwick Rangers Supporters. The 3 supporters' groups have pledged £250 each to the Berwick community Trust for the foodbank this festive period.
In addition to this there will be a collection at Shielfield on the 11th of December at our home game against Broomhill. A bucket collection will be in operation at this game for donations. For those who cannot attend the match but would still like to contribute, they can do so by donating online to the community trust https://berwicktrust.org.uk/food-bank.
A campaign just before Christmas last year, organised by St Andrews Berwick Rangers Supporters raised £650. With a matched donation of the first £250 from St Andrews Berwick Rangers supporters that saw the final total of £900 split between the foodbank and Northern Soul Kitchen who work closely with the foodbank in Berwick.
The more people that donate what they are able, however small can make a real impact helping the people in desperate need this festive period. Not only does that help the people that are in need, but it also helps raise awareness of the issue in the town and surrounding areas.
Thank you to all in advance who contribute to help those less fortune this Christmas.