23rd February 2020
Community Day summary
Berwick Rangers would like to place on record its appreciation of the fantastic support shown to the club yesterday afternoon.
In weather that appeared to represent the most unpleasant of every season, 556 people joined us to take in a 2-0 victory on Community Day at Shielfield Park. This figure was not only an increase of 200, but also helped set a new highest attendance in the entire Lowland League this season.
The result, which built on the momentum offered by an impressive showing during last weekend's 0-0 away to Cumbernauld Colts, marked the first time Berwick Rangers have kept two consecutive league clean sheets since as far back as 2016.
Pre-match
Prior to kick-off, youngsters enjoyed the opportunity to take part in a crossbar challenge. The day's weather was summed up pretty perfectly by these two photos, captured within just a couple of minutes of each other,
The club would like to thank the parents and volunteers from Berwick Juniors who braved the awful conditions – as well as the youngsters themselves for getting involved!
Someone a little older to get involved was assistant manager Kevin Haynes, the former 'Gers number 9 dusting off his boots to give it a go and enjoying a chat with Juniors players.
The usual club lotteries were also in operation on the day, and this week's lucky winners were Alan Waters, who took £100 from the half-time draw, as well as Alister Horsburgh (£200) and Lydia Lee (£50) on the Bond Scheme.
A big thanks goes to all our gate staff, programme sellers, half-time draw ticket sellers, bar staff, shop manager and everybody else who helps make matchdays run smoothly.
The match
In truth conditions made it difficult for any side to put on a show on the park, but it was the 'Gers who secured three points on the day – their first victory of 2020.
It took until the 80th minute for the deadlock to be broken, when Ali Forster served up a delicious cross to Calum Smith, the experienced striker making the most of the opportunity with a lovely glancing header over the Uni 'keeper and into the back of the net.
That lead was doubled a few minutes from the end, too, as defender Hamish Thomson was quick to react to a driven corner, flicking the ball towards goal with the opposition stopper unable to do anything more than palming the ball into the net.
Full match highlights can be found over on BRFC TV as always. A special mention goes to cameraman Alan Skelly, who always does a fantastic job of recording, editing and uploading highlights for the club. We'd also like to thank cameramen Ian Runciman and Alan Bell for their excellent photography!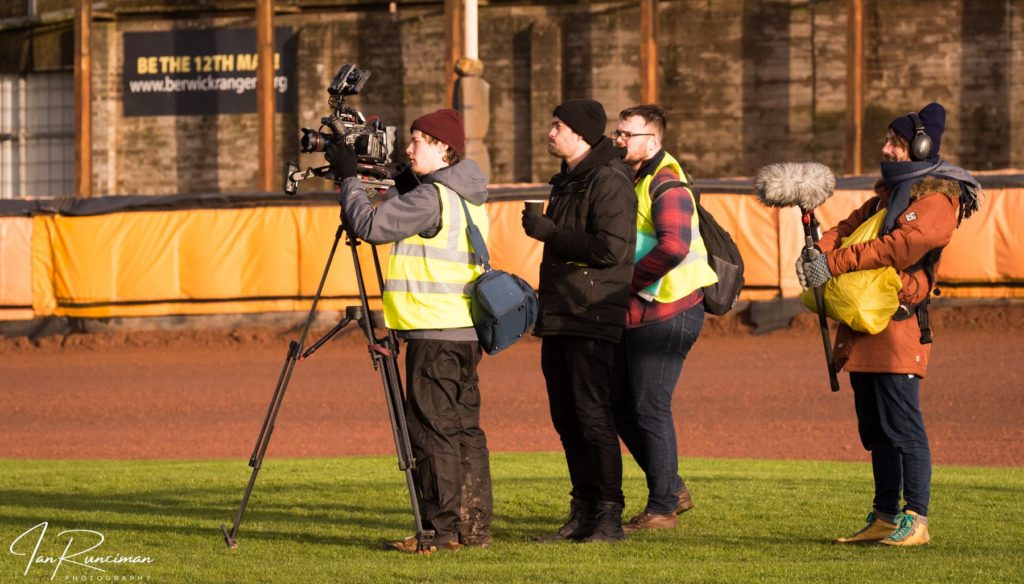 Speaking of cameramen, pictured above are a team from Studio Something, a crew at Shielfield on behalf of popular weekend preview show A View From The Terrace. Recording a piece on the 'Gers, Berwick will feature on the BBC Scotland show soon. The club will endeavour to provide an update on when this will be as and when confirmed.
Post-game
After the match the bucket collection was counted, and we were delighted to add a total of £1345 to the 1881 Fund thanks to the generous contributions of those in attendance.
The four-figure addition has put us within touching distance of £6500 raised towards next season's playing budget, an incredible effort made all the more impressive by the fact that the Fund has been active for just 20 days.
Further efforts to bolster Ian Little's budget are already being planned, and post-match, the latest addition went live, with an England Euro '96 shirt, signed by the entire squad, going up for auction over on the club's Facebook page.
The jersey, kindly donated by former Chairman Jamie Curle, is up to a bid of £250 at the time of writing, with every penny raised set to head to the 1881 Fund.
Don't forget, you can still make a direct contribution to the 1881 Fund over on Just Giving. No matter how small, all will help push us towards our target of £10,000.
Another exciting 1881 Fund event will be revealed at 5pm over on our Facebook page, so stay tuned for that one!
Final thanks!
To all those that attended or volunteered at Shielfield Park on Community Day – the club would like to pass on its sincere thanks. We hope to see you again soon!
And finally, to Berwick Rangers Supporters' Club and Berwick Rangers Supporters Trust, whose kind sponsorship allowed us to make entry free to all.