10th June 2021
Club's shirt sponsorship raffle gathers momentum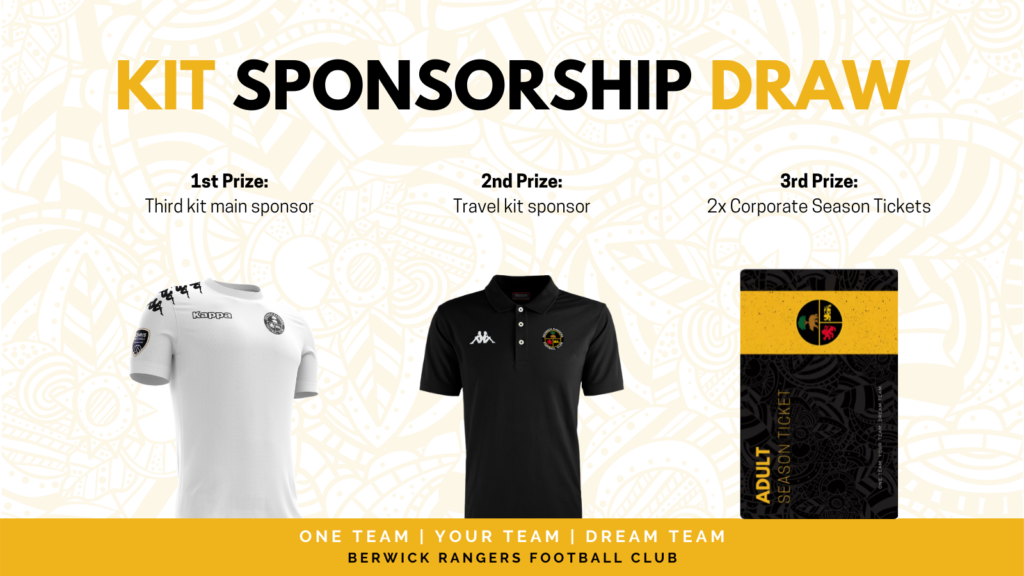 The club is pleased to report that this summer's popular returning kit sponsorship draw is gathering momentum as businesses both local and from afar look to take advantage of the opportunity to receive a year of national exposure at a fraction of the price.
Fantastic support has been shown by entrants so far, with many purchasing multiple tickets to show their support of the 'Gers while boosting their own chances of scooping the three prizes available.
This year, the club's main third kit sponsorship is up for grabs for our winner, with travel kit sponsorship a runners-up prize and two corporate season tickets up for grab for the third out of the hat.
All entrants will receive exposure for their support when featured via the club's official site as below, and will also receive a free small ad space in our award-winning match programme for the 21/22 campaign.
Supporters so far: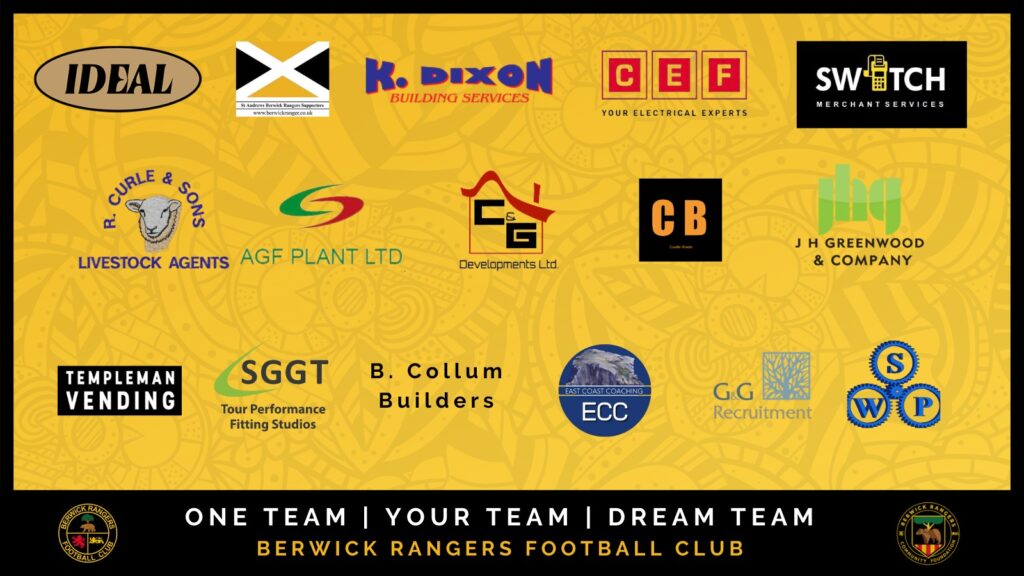 The club is extremely thankful for the support of:
Ideal Carpets: A long-time sponsor of the 'Gers, Ideal are a regular on 'Gers replica kits already. The largest independent carpet and flooring specialists in North Northumberland and its Eastern Borders, Ideal Carpets are based on North Road.
St Andrews Berwick Rangers Supporters: Another regular supporter of the club, St Andrews Berwick Rangers Supporters are headed by David Letham and have close connections with other local businesses. A previous winner of the draw, the organisation donated the shirt space to Northern Soul Kitchen.
K Dixon Building Services: Another loyal supporter of the club, Kevin Dixon Building Services is a family-run building service located in Berwick-upon-Tweed.
City Electrical Factors: CEF are based in the Ramparts Business Park in Berwick, and are the UK's largest electrical wholesaler/supplier with almost 400 branches nationwide.
Switch Merchant Services: An official club partner, Switch have been a fantastic supporter of the 'Gers in recent years and exist primarily to help businesses save money!
R Curle & Sons Livestock Agents: Yet another long-term supporter of the club, R Curle & Sons Livestock Agents operate out of Northumberland.
AGF Plant Ltd: Owned and operated by former Director Drew Fiddes, AGF Plant Ltd are based in East Lothian and provide JCB, Excavator, monoblocking services and more.
C&G Developments Ltd: A Dunbar-based company, C&G Development Ltd provides professional construction services to clients throughout the East Lothian and Edinburgh areas.
Castle Blinds: Around since 1996, Castle Blinds are based in Berwick-upon-Tweed and cover all of Northumberland and the Scottish Borders, offering free measuring, fitting and advice.
J H Greenwood & Company: Another long-term supporter of the club, J H Greenwood & Company are a firm of Chartered Accountants and Chartered Tax Advisors based in the town of Berwick-upon-Tweed and in the city of Edinburgh.
Templeman Vending: Based in Gateshead, Templeman Vending are yet another long-term supporter of the 'Gers and are one of the nation's leading retail and vending wholesalers.
B. Collum Builders: Brian Colum Builders are a building and plastering service provider based out of Eyemouth, and were recruited to the draw by friend of the business and club director, Dougie Younger.
East Coach Coaching: Based in Dunbar, East Coast Coaching is a private football coaching business and is ran by Stuart Allan, son of director Andrew. Stuart is available to work across East Lothian providing 1-to-1 sessions, small group sessions and club sessions.
G&G Recruitment: G&G Recruitment was formed back in 2015 and is headed by former 'Gers player, Gary Greenhill. The company provides high-level services to job seekers and clients throughout the whole of Scotland.
SWP Engineering Ltd: SWP Engineering is a family-run engineering company providing steel fabrication, production, stores and more out of its base at Ramparts Business Park, and is headed by former club director, William Parkin.
The full prize list is as follows:
First Prize 
Main sponsorship of the 'Gers white Kappa third kit
Second Prize
Sponsorship of official 'Gers travel kit
Third Prize
2x corporate season tickets for the JB Lounge
Entries for the draw will close in early July (date TBC).