14th January 2022
'Berwick Rangers 2007 – An Evening with The Champions' – ticket launch
Tickets are now on sale for 'Berwick Rangers 2007 – An Evening with The Champions' which is scheduled for Friday March 18th in The Black & Gold Social Club. 
The event is being organised by Berwick Rangers legends Gary O'Connor and Grant McNicoll who are promising fans an absolutely unique night as everyone reminisces about that unforgettable season 15 years ago.
The idea for the event was spawned from the posting of a video on Facebook in 2020 of the Championship winning squad returning from celebrations in Newcastle to Berwick Town Hall which led onto the discovery of 'fan-cam' video footage from 8 games from that season's 'run-in'. Gary commenting on his joint 'COVID project' with Grant said "we saw the Town Hall video and immediately a few of us thought that a reunion would be brilliant so the first thing we did was check that the club were onside with the idea, which they absolutely were, then we contacted the 30 players/management from 2007 and the response has been incredibly positive with only 2 guys yet to commit to coming along". Grant adds "what we are planning is a split evening, the first part will be clips from the 2007 run-in games followed by short interviews from the key guys featured then later everyone we can all mingle as we show the complete Berwick Rangers 1:0 Arbroath league decider including build-up to that match and all the celebrations that followed.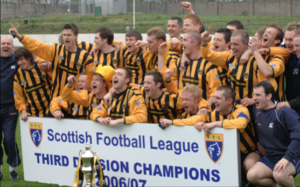 Gary and Grant are also delighted to announce that Drew Fiddes (AGF Plant Ltd) has very kindly offered to support the initiative by stepping forward as main sponsor
Tickets for this on-off event are priced at £15 +£1 admin fee, (which includes food) and are available below, surplus funds from the evening will be donated to The Berwick Rangers Community Foundation and The Dream Team playing budget for the 2022-23 season.