26th October 2023
BBM Safety Training Partnership Agreed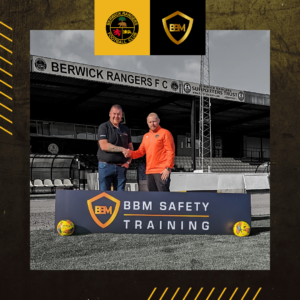 Berwick Rangers Football Club is delighted to announce a new partnership with BBM Safety Training Ltd.
Based in Berwick-upon-Tweed, and formed in 2021, the training company delivers outstanding courses specialising in the security industry. With a wealth of experience behind them, their courses are engaging, fun & knowledgeable and include; SIA Security, Emergency First Aid, First Aid at Work, Fire Safety, CCTV, Door Supervisor, Spectator Safety & Conflict Management. Their clients extend to; HM Courts across England & Wales, Haven Holidays (part of Bourne Leisure), Parkdean Resorts and many more around North Northumberland & The Scottish Borders.
The BBM Team have joined us here at Shielfield Park, where they will use our facility as a base to roll out many of their training courses. In recent months, we have seen our Community Academy Partners Simpsons Malt, take advantage of meeting room space and we have also welcomed Borderlinks Enterprise Group to enjoy many days out as part of their ongoing projects. Just another couple of examples of being able to utilise our space for businesses and groups within the community of Berwick.
Speaking of the new partnership, Director Callum Maguire said, "We are very excited to be here and already feel a huge part of the club. Kieran showed us around the facility and what they have to offer, and we simply couldn't say no. It presents us with a great business opportunity and we look forward to working with Berwick Rangers and helping out where we can".
Supporters attending Shielfield Park will notice a couple of advertising hoardings around the stadium and BBM Safety Training will also be assisting the club by upskilling our some of our Matchday Stewarding Team.
Welcome aboard!
💻 www.bbmsafetytraining.co.uk
📧 info@bbmsafetytraining.co.uk
📞 01289 400240