23rd March 2020
WIN £1,000 every month – Supporters Club launch new Draw!
As you will no doubt be aware, the Coronavirus (COVID-19) outbreak poses serious financial problems for many businesses and organisations across the country.
This includes Berwick Rangers Football Club, which relies significantly on a £30,000 annual payment from Berwick Rangers Supporters Club. As leaseholders of the ground, the Supporters Club relies heavily on income from users of Shielfield Park, as well as Berwick Rangers home fixtures, where the Supporters Club conducts its Half-Time Draw.
Should COVID-19 be around for as long as some suggest, it could have serious implications on the financial support Berwick Rangers Supporters Club can provide Berwick Rangers Football Club, with the club having based its 2020/21 season budget on receiving £30,000 from the Supporters Club. As things stand, it is highly unlikely that the Supporters Club can achieve this.
What the Supporters Club is looking to do to address this
The Supporters Club has looked at alternative ways of raising vital extra funds for the Football Club and has settled on attempting to do this by revamping its long-running Weekly Scheme.
How to play
From April 1, the Weekly Scheme will change to a Monthly Draw, where £1,000 can be won every month! Instead of paying £1 per week, the Monthly Draw will cost £5 per month, per person – consolidating payments to make it easier for those participating.
Each participant will be assigned a number by the Supporters Club (from 1 to however many people are in the draw) and at the end of every month, the Supporters Club will do a draw. If your number is drawn, you'll win £1,000 – it's as simple as that!
The Supporters Club will be encouraging digital payment via the up of standing orders (more on that soon).
Charitable Donations
To encourage a wave of early signups, for every number assigned by April 1st, the Supporters Club will donate £1, which will be split between two local charities: Berwick Community Trust Food Bank and Northern Soul Kitchen. So, if there are 500 numbers assigned by April 1st, that'll be £250 to each charity!
How to sign-up
First of all, you'll need to fill out the form below with your details. Without supplying the Supporters Club with your email address or phone number, they won't be able to contact you if you win!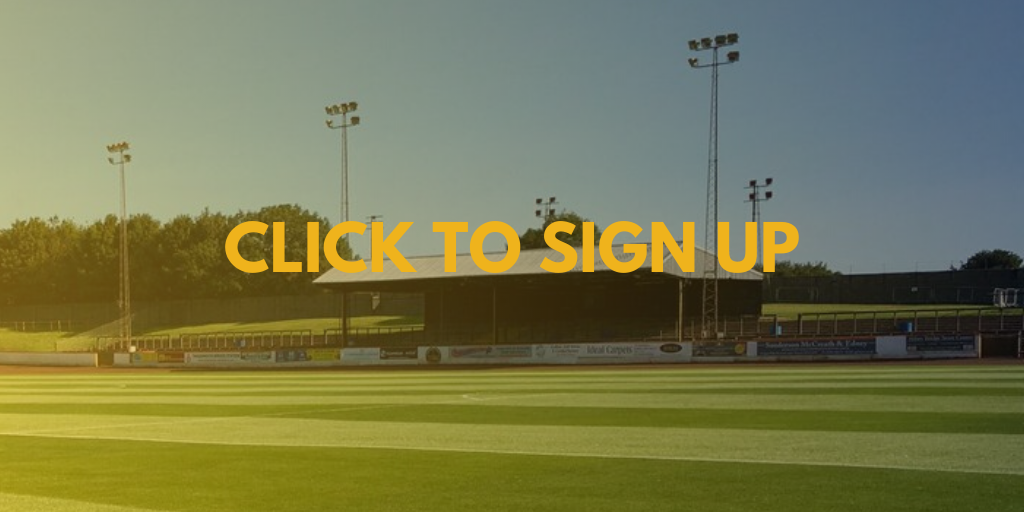 How to pay
Go to your mobile banking app and set-up a Standing Order to be effective from April 1st, 2020, and to continue on the 1st of every month. If you pay £5, you'll have one number. If you pay £10, you'll have two numbers and so on.
The Supporters Club account details are:
Account Number: 25166160
Sort Code: 77-20-09
The Weekly Scheme – Thank You Conrad
For years, the Weekly Scheme has been hugely successful in raising funds for the Supporters Club which, in turn, has been donated to the Football Club.
Both the Football Club and Supporters Club are indebted to Conrad for his incredible work in building and maintaining these relationships with his agents over the years.
Conrad has decided to step away from collecting the money and, indeed, the Supporters Club committee as a whole. Again, we can't thank Conrad enough for everything he has done for the Supporters Club and Football Club spanning many years and he has thrown his support behind the new Monthly Draw.
The Weekly Scheme will continue for the next two weekends (March 21 and March 28), with the Monthly Draw coming into effect at the beginning of April.
Current Weekly Scheme Agents
If Agents are unable to pay digitally on behalf of their syndicate, Supporters Club representatives will continue to collect money as Conrad does currently. With the change in the format of the draw, these collections would switch from weekly to monthly and, obviously, Agents will need to receive a £5 payment from those in their syndicate every month, rather than £1 per week.
The Supporters Club hopes to be in contact with all of our Agents over the next couple of weeks with a view to collecting the money for April's draw in the first two weeks of April (although this is very much dependent on the COVID-19 situation).
If you have any further questions on this new draw, please contact Supporters Club Vice-Chairman Martin Inglis on 07528513838 or email brfcsc.secretary@gmail.com. He's happy to answer any questions you may have.