18th June 2018
Rangers launch new fundraising campaign
Berwick Rangers has today launched their innovative new fundraising campaign for the 2018/19 season.
The fundraiser, believed to be the first of its kind in Scottish football, asks supporters to back the club with performance-based donations. Everyone who signs up to the campaign, which has been named 'Pound Per Point', will be pledging one pound to the club for every point the team earns during the 2018/19 SPFL League Two season.
Club Media Manager Dominic Gall, who has worked alongside the board to launch the new campaign, feels that Pound Per Point will be a welcome addition to the club's fundraising efforts: "Everyone knows the importance of fundraising for clubs, especially at this level, however we recognise it can be frustrating for supporters when the results on the pitch aren't going the way everyone hopes. We believe this is a positive situation for everyone, as the better the team performs, the more money the club raises and the happier the supporters will be. I'm sure come next May everyone will be hoping for their donations to be accompanied by the league trophy!"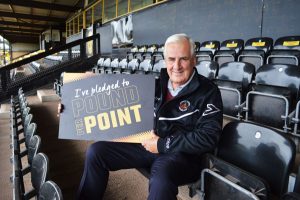 Furthermore, with the donation being set at one pound, Dominic hopes that the campaign will bring together various stakeholders of the club and build a sense of unity, as everyone has offered the same level of backing: "It's great that unlike other campaigns, all pledges are equal. Whether it's a young supporter pledging their pocket money or the chairman of the club pledging his pension, it's the same £3 a game… or least everyone hopes it will be £3 per game!"
As a thank you, the club plans to hold an exclusive 'meet the manager' event later in the season, where all supporters who have pledged will be invited to spend an evening at an exclusive question and answer session with Robbie Horn and his management team.
Payment of the pledge will be split into three instalments, collected in early November, February and May. The club has made it easy for supporters to donate, with plans to make an item on the online shop matching the value of the points total across the previous three months. Supporters will also be able to donate their pledge in person, with payments being accepted in the club shop or via cheque.
Supporters wishing to learn more about the new Pound Per Point fundraiser can do so on the dedicated information page. To register your pledge to the Pound per Point campaign, please click here, or sign up in person at Bar 1881 or the club shop during the season. Supporters can also join the conversation on social media throughout the season using the hashtag #PoundPerPoint.