Graham Taylor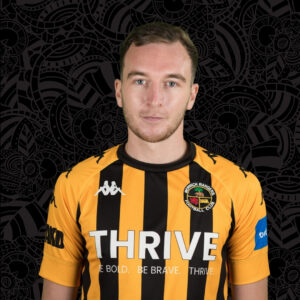 Date of Birth: March 19, 1998
Previous Clubs: Dundee United, Edinburgh City, Cowdenbeath
Hometown: Stirling
In the summer of 2021, Graham Taylor signed a one-year deal with the 'Gers, with the option of a second – which was swiftly activated following some incredible performances in early parts of the campaign.
Taylor started out in the Dundee United academy and his performances at development team level led to his inclusion in the first team squad for Scottish Challenge Cup matches during the 2016/17 season, making his debut against Dunfermline in November 2016. During the early part of the 2017/18 season, Taylor appeared in a number of further cup fixtures, and was named man of the match against Linfield in the Challenge Cup in October 2017.
Taylor made four appearances in total for Dundee United before he was loaned out to Scottish League Two side Edinburgh City in January 2018 for the remainder of the season. He played 14 times, scoring twice, and when his Dundee United contract wasn't renewed, City swooped in to sign the midfielder on a permanent basis. He went on to play 46 times in all competitions for City in the 2018/19 season, forming a key part of the side that went on to finish third in the league.
Taylor then spent two seasons with Cowdenbeath but, having only made ten appearances since signing on for the Central Park side, he has jumped at the chance at a fresh start down at Shielfield Park. The flying winger swiftly repaid the faith of Stuart Malcolm, netting 13 in 36 games and assisting 10 times – figures which earned him multiple Player of the Year awards.
Player Sponsor
Graham Taylor is sponsored by the 'From the Grove to the Harrow' Fanzine, the independent magazine of the Dream Team.
From the Grove to the Harrow recently returned after an 18-year hiatus, and takes a light-hearted look at life at Shielfield Park. Supporters can order the latest issue of the Fanzine via email by sending your address to on grovetotheharrow@gmail.com or by phone on 07974 137277, and paying the total printing (£2) and postage costs (£1 or £1.70 oversea) on this link.
All profits from the Fanzine are donated to Berwick Rangers Community Foundation.  The club would like to thank Doug Stenhouse for the sponsorship.