12th July 2021
Match Day | BRFC vs Workington AFC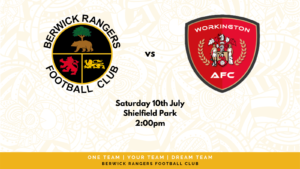 A wonderful 25-yard free-kick from Scott-Taylor Mackenzie – definitely worth watching the highlights for – and a slotted finish from Trialist just before the final whistle helped the 'Gers complete three home wins from three in pre-season.
Thanks to our visitors from Cumbria for making their way over for what was a very well contested match and we wish them the best of luck for their league season.
It's now on to Lowland League business for the 'Gers as they begin their league campaign at home to
Caledonian Braves
next Saturday (July 17th).