5th February 2022
Match day 26 | VOL vs BRFC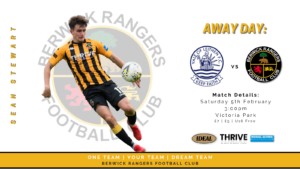 Match Preview / Team News
This week we are trying something new and to let you hear this weekends team news directly from the boss. Tune in below for this weeks preview!
Line Up
Andy McNeil
Grant Nelson – Dave Ferguson – Thomas Scobbie (c) , Lucas Williamson
Graham Taylor – Alex Harris – Lewy Barr
Sean Stewart – Lewis Allan – Lewis Baker.
Subs
McGrath for Allan
Heeps for Stewart
Ward for Nelson.
Other unused sub Jack Cook.