7th March 2022
Management Team Kitted Out Thanks to 1836 Capital, LLC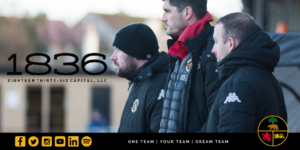 Over the course of this season you will have seen the club's management team keeping warm, whilst looking sharp. The club would like to thank Associate Director, Jonathan Collura for his donation by way of his company 1836 Capital, LLC to sponsor the coaches kit this season and next.
Jonathan runs 1836 Capital, LLC which was founded in 2011 and is is a structured finance and management consulting company based in Dallas, Texas. Collura has been involved in the football business in the UK since 2014 at multiple levels of the game.
As well as being an Associate Director here at Berwick Rangers, he owns Bugeaters FC in Omaha Nebraska that plays in the USASA. You can find out more about Jonathan's Bugeaters FC here.