30th March 2021
Lowland League 20/21 campaign finalised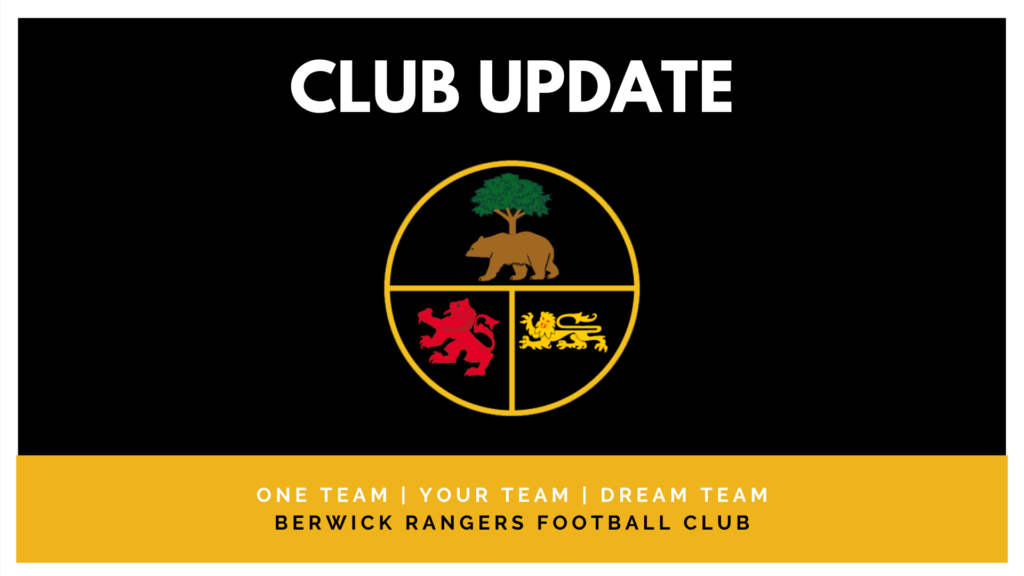 Earlier today it was confirmed by the Lowland League that the 2020/21 campaign had officially been finalised after considering of the views of its member clubs.
Having consulted all Lowland League clubs, Berwick Rangers were part of the nine outfits who supported the recommendation for finalising the league on a Points Per Game (PPG) basis.
While three sides expressed a preference for the season to be declared null and void, the support in favour of a PPG finalisation constituted a majority and accordingly, the final league table has been declared as follows:
The outcome sees the Wee 'Gers  jump one place up into 10th ahead of Civil Service Strollers, with Kelty Hearts confirmed as the league's champions for a second consecutive season.
About our vote:
Berwick Rangers voted in favour of Points Per Game primarily to uphold the integrity of the game in relation to enabling the league's champions to participate in SPFL play-offs, a right was previously denied to the champions in 2019/20, and which the club are keen in ensuring remains a one-off occasion.
Additionally, this resolution was seen as the most cost-effective for Berwick Rangers, who did not see weekly PCR testing for Covid-19 as a viable additional expenditure between now and the end of the season.
Further, the continued risk of any additional stoppages to competition and inability to guarantee an end of season in any case created additional reason to get behind a motion which would finalise the season now.
What happens next:
The Lowland League are now conducting ongoing discussions with the Scottish FA, SPFL and Scottish Highland Football League with regards to potential dates for the Pyramid Play-Off competition.
Elsewhere it has been outlined that there are several other factors, including the agreed conclusion of other competitions, until any league relegation can be confirmed.
Confirmation of a planned start date for the 2021/22 Lowland League campaign has also been revealed, with Saturday 17th July penned in as the return of on-field competitive action.
With 12 players already signed up for the new campaign (namely Andy McNeil, Dougie Horne, Craig Reid, David Ferguson, Jack Cook, John Ward, Jordan Sinclair, Lewis Barr, Jack Wright, Ciaran Heeps, Scott-Taylor MacKenzie and Lewis Allan), the club are in a strong position to attack the new campaign from a point of stability – something that has perhaps lacked in recent years.
The club will endeavour to confirm its fixture list, any further news on its playing squad and information on plans for pre-season, as and when it is confirmed.
To that end, the club can reveal a first pre-season fixture has already been scheduled, finalised this morning and set to take place on Saturday 3rd July against Northern League Division One side, North Shields at Shielfield Park.
With thanks:
It goes without saying that the 2020/21 campaign has been one of the most unusual in the club's history.
Accordingly, the club would like to place on record its thanks to all volunteers, sponsors, staff, players and fans for their invaluable contribution over the past year in particular.
Our supporters have risen to the challenges presented to Berwick Rangers and helped the club to navigate its way through what has been a difficult period.
Whether through sponsorships, match streaming, share purchasing, merchandise buying, fundraising, volunteering, 1881 Club memberships or otherwise, your efforts have been invaluable in ensuring the safety and security of Berwick Rangers.
As a club, we are under no illusions with regards to the continued challenges ahead as we begin to attempt to rebuild from the collective impact of previous years – both on and off the park.
Without the aforementioned support, there is no doubt the club would be in a far more concerning position, demonstrating that ultimately it is your support that protects the club – and it is your support that enables the football club's growth.
With that in mind, the club would like to ask fans to carry this level of support into a new era; to help the club in overcoming more challenges, to carry on building a sense of unity and to continue playing an active role in efforts to build a more successful Berwick Rangers Football Club.
One Team | Your Town | Dream Team