7th February 2020
'Gers announce Official Energy Partnership
Berwick Rangers are delighted to announce Switch Gas & Power as the club's Official Energy Partner.
Switch Gas and Power is a leading utility broker and business utility consultancy, which assists businesses in reducing their energy consumption and costs.
The Birmingham-headquartered company, which has thousands of customers of all sizes across the UK and Europe, shops around to find the right energy deal for businesses and then manages the whole switching process for them, making sure they're always on the best value-for-money gas, water and electricity contracts.
For the partnership, rather than investing in a one-off annual sponsorship of the club, Switch Gas & Power aims to provide additional income to the club by working on a referral basis.
This means that for any businesses who become Switch Gas & Power customers through Berwick Rangers, 60% of what the company receives from their new customer would go to the Football Club.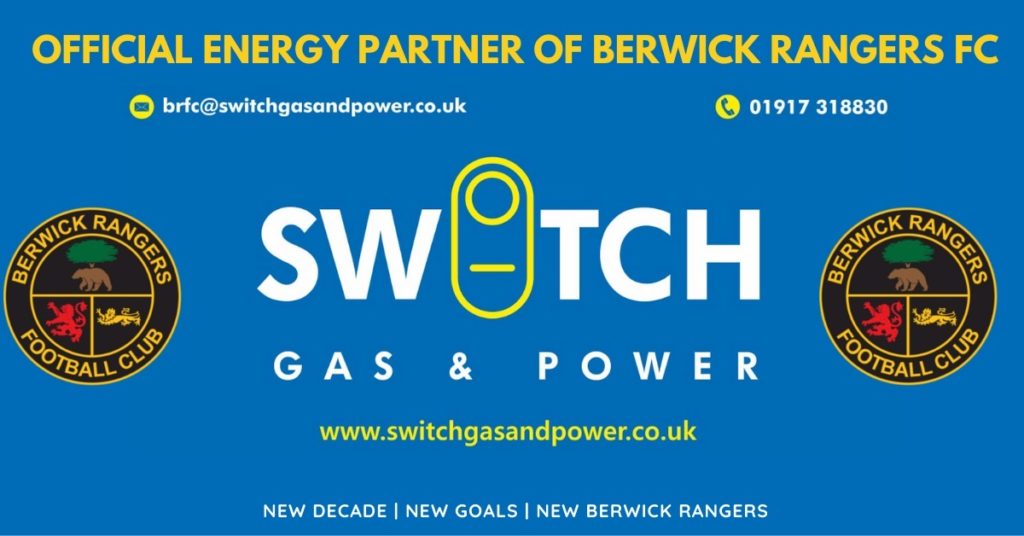 So, in becoming Switch Gas & Power customers, businesses will be financially benefiting Berwick Rangers Football Club.
To kick-off the partnership, it is hoped that an open night for local businesses will be arranged in the not too distant future, where a representative from Switch Gas & Power will be present to talk about the benefits of becoming a customer.
Members of the Switch Gas & Power team will also be in the JB Lounge for the home match against Edinburgh University FC on February 22, while the company has also purchased a pitchside advertising board as part of the link-up.
Speaking about the partnership, Berwick Rangers Vice-Chairman Craig Forsyth said: "I'm excited to announce this deal with Switch Gas & Power and believe this can provide a financial boost via a method that hasn't been explored by the club before.
"As a Board, we've been overwhelmed by the support of the local business community so far in our tenure and I'd like to encourage businesses to take a look at how Switch Gas & Power can save them money while benefiting the Football Club at the same time."
Paul Davidson, Corporate Procurement & Relationship Manager at Switch Gas & Power, added: "It's an honour to become the Official Energy Partner for Berwick Rangers Football Club – the only English team playing in the Scottish leagues – and I hope this is the beginning of a long and successful relationship.
"We're confident that with referrals generated through the club's connections, alongside our vast industry knowledge and dedicated account management, that income for the club through our service will outweigh any sponsorship package."
For more information on how Switch Gas & Power can save your business money on its energy costs, visit switchgasandpower.co.uk.
Alternatively, email brfc@switchgasandpower.co.uk or call 0191 7318830.
New Decade | New Goals | New Berwick Rangers