26th August 2023
Crossgates Primrose vs BRFC Match Report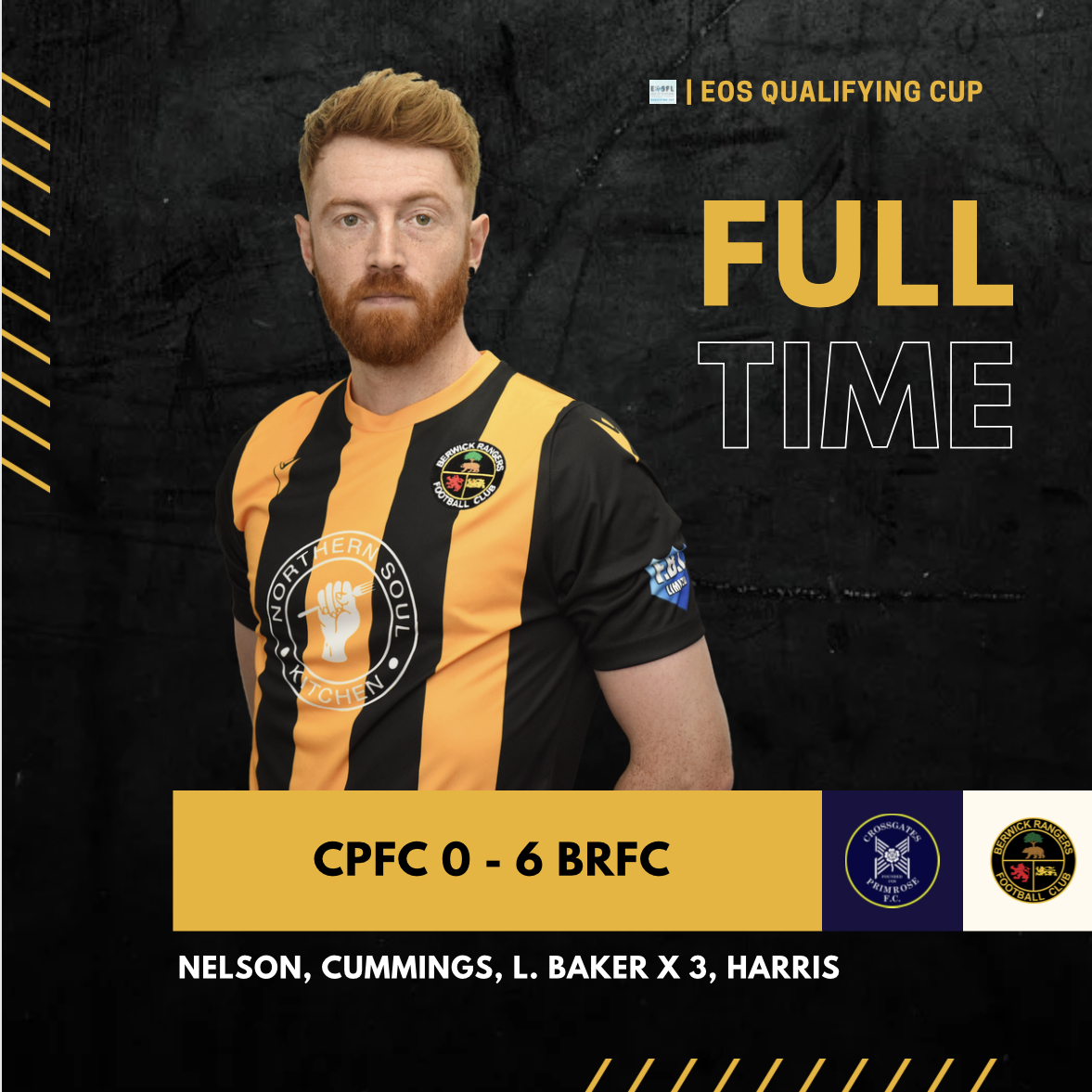 Much changed Berwick cruised into the Third Round of the East of Scotland Qualifying Cup with a resounding 6-0 win at Crossgates Primrose. 
Lewis Baker was the hat trick hero while Grant Nelson, Drew Cummings and substitute Alex Harris also grabbed their first goals of the season. 
Stuart Malcolm shuffled his pack as the Dream Team played their third game in the space of a week. Liam Buchanan missed out through injury while Jamie Stevenson, Lewis Barr, Graham Taylor and Harris all dropped to the bench with Lewis Baker, Blair Sneddon, Kyle Baker, Seff Khyyan and Grant Nelson all coming into the starting line up. The hosts, meanwhile, had ex-Gers Steven Anderson, Cammy Dow and Craig Reid in their starting eleven. 
The changes had an almost instant impact. Crossgates were looking to cede possession and counter when possible but their gameplan was thrown off just six minutes into the tie. With no pressure on him, Callum Mackay – moved into central defence – drove forward 30 yards with the ball and laid it to Nelson. Nelson, playing as a central midfielder, had Khyyan wide right but with no Crossgates player closing him down, he opted for a strike from 25 yards out. He caught it sweetly and, despite Mikolaj Komocki getting a fingertip to it, it nestled in the far corner to give Berwick an early lead. 
Berwick continued to apply pressure and were finding joy out wide as both Khyyan and Kyle Baker hugged the touchlines as much as possible early on. It was that width that allowed Baker to breeze past Craig Reid on the left before being pulled back for a free kick. Bayley Klimionek's delivery was to the far post where Mackay headed back across goal for Lewis Baker but his header was right at Komocki. 
Crossgates were struggling to get a foothold in the game and their task was made even harder midway through the first half. Khyyan's direct play down the right forced a corner which Klimionek took. His delivery was nodded down by Travis but there wasn't a black and gold shirt near. However, Reid's clearance was poor and straight to Nelson who headed to Drew Cummings on the left who cut inside David Cross easily and fired a low shot from the edge of the box that hit the near post and went in. It was brilliant skill from Cummings for his first goal for Berwick in a week the club announced he was extending his contract to the end of next season. 
Crossgates were really struggling now and almost gifted Berwick another 90 seconds later. A really poor ball from Archie Campbell was picked up by Lewis Baker 35 yards from goal. He was again not closed by any Crossgates defenders and he opted for a strike from range. It was blocked by a combination of Steven Anderson and Cross but fell invitingly for Nelson who ran onto it and struck another brilliant effort that Komocki had to tip over. 
Berwick were beginning to really move the ball well with Kyle Baker finding space on the edge of the area before play a reverse ball to Lewis Baker. The striker skipped past Cross' challenge but could only sky the ball over the bar. 
He would get his first of the season just before half time though. More good possession saw the ball come out to Jamie McCormack at right back. He played a ball down the line which seemed to be too hard but Nelson managed to get to it and pull it back. Lewis Baker got across his man and finished at the near post to put Berwick three to the good at half time. 
Crossgates came out in the second half with a bit more energy and aggression but that lasted just five minutes as they gifted Berwick a fourth. A hopeful ball forward from substitute David Ferguson – on for McCormack at right back – wasn't dealt with by Reid and Lewis Baker nipped in front. Despite the defender's best attempts to haul down the striker, Baker stayed strong and lifted the ball over Komocki for his second of the afternoon. 
The hosts were all over the place and could have conceded another just a minute later. A long ball from Callum Antell was attacked by two Crossgates defenders and fell to Kyle Baker. He played a one-two with Khyyan but he got under his shot and it went harmlessly over. 
Antell had been completely untroubled all afternoon but he was called into action ten minutes into the second half. Crossgates broke with Cammy Dow carrying the ball forward before slipping it to Campbell. The pass took him wide of goal and narrowed the angle and all he could was strike it at Antell who saved with his feet. It was a rare foray forward for the hosts but the game quickly returned to its normal pattern. 
Barr, Graham and Harris entered the fray on the hour mark and two of the subs almost created a fifth. Lovely play down the right set Graham free and he had numbers over. He played the ball inside but Khyyan and Barr got in each other's way and Cross was able to clear. 
It wouldn't take long for Berwick to actually get a fifth. Graham switched to the left and played a nice ball down the line to Barr. The midfielder was allowed far too much time to look up and pick out Harris in the middle who had time to take a touch and put it into the top corner from six yards out.
The game began to slow as Crossgates went into damage limitation but there were still chances to be had for Berwick. Khyyan scuffed an effort from the edge of the area which landed at the feet of Lewis Baker who could only fire wide while Ferguson managed to get free at the back post at a corner but his header dropped agonisingly wide of the far post. 
Baker would get his hat trick in the final five minutes. A hopeful long ball for the striker seemed to be getting safely shepherded out of play by Cross but Baker nipped in and kept the attack alive. Ferguson offered support and lofted it over cross and poked it away from Colin Paterson before being hauled down by the Crossgates sub. The referee pointed to the spot and Baker stepped up, sending Komocki to secure the match ball. 
It finished as six of the best for Berwick with a Third Round berth secured. Up next is a return to Shielfield as old foes Cowdenbeath visit in Lowland League action.