6th May 2021
Colts Proposal Statement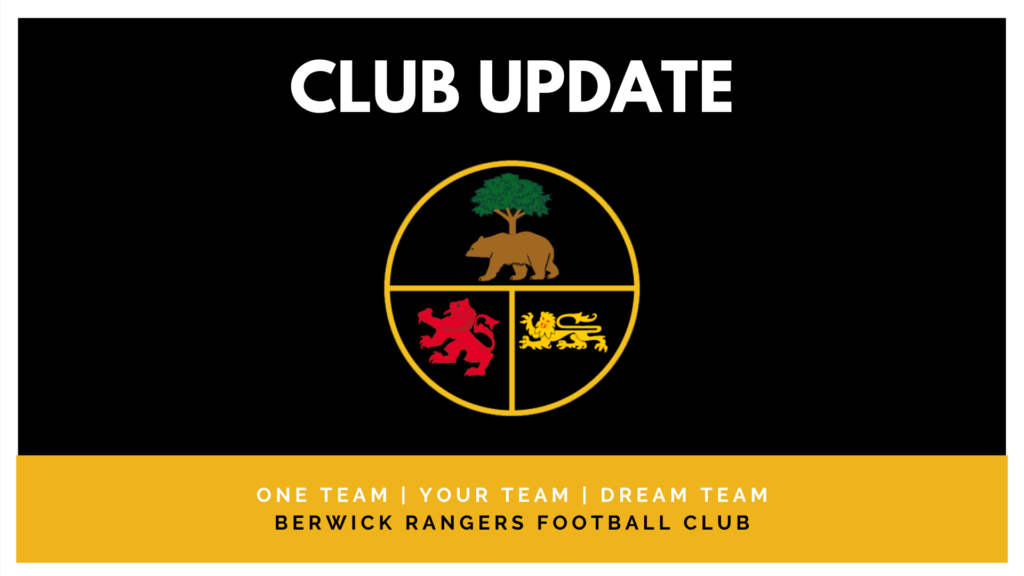 The Board of Directors would like to provide further information to supporters with regards to the proposal announced yesterday for the inclusion of Rangers and Celtic 'B' teams for the 2021/22 season.
Fan consultation continues and feedback that is sent via email to club@berwickrangers.com will be taken into consideration before the Board of Directors decide whether or not to vote in favour of the proposal.
Club Statement
There has already been understandable diversity of views on the Rangers & Celtic Colts proposal from our supporters. Amongst some of the dissenting views we've received so far have been inaccuracies based on assumption – largely due to proposal specifics not yet being shared in the public domain. 
To add some light on the proposal and further inform your view, the Board of Directors would like to offer fans further detail around some of the specifics of the proposal:
The proposal being made is for a one season deal, with no commitment or obligation to ongoing inclusion of Colts teams.

If successful, the proposal could not impact the promotion or relegation process. Both Colts sides would be exempt from promotion and relegation. Upon completion of the season, their respective positions in the final table would simply be removed.

Each Colts team would pay an entry fee of £25,000 to the league. The proposal indicates that this injection of an unconditional sum would be reinvested within the Lowland League.

One of the main anticipated benefits outlined by the proposal is the expected increase in exposure for the Lowland League, something that the league itself would look to harness to create new sponsorship deals which would in turn trickle down into further financial benefit for participating clubs.

The introduction of both Colts sides for one season would create two extra home games for each league club. This would provide additional direct revenue for Lowland League sides. 
In the context of our own situation, it is important to note the club is entering its first campaign without SPFL parachute payments. While the club continues to strive to find ways to increase revenue, all options available to the club to ensure the books remain balanced should be considered.
Nevertheless, it is the backing of our supporters that has enabled us to move away from a critical financial position in the past two years. Accordingly, the voice of our fans will be important in the final decision we reach as a club and the actions we take as we continue to progress.
If you have any views, whether 'for' or 'against', please do get in touch.