5th June 2021
Club confirms boardroom appointments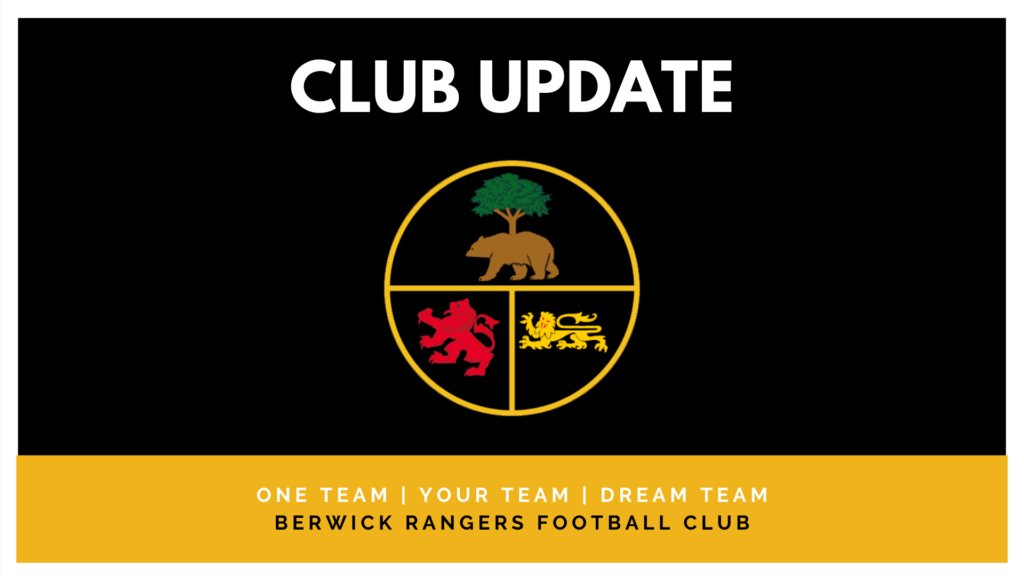 Berwick Rangers are pleased to confirm that Gary Burns and Andrew Allan have been appointed to the club's Board of Directors. Further, the club is also delighted to welcome Jonathan Collura as an Associate Director
The appointments of Gary and Andrew come as recognition of the contribution the pair have made during their time with the club as Associate Directors, and will formalise their view during boardroom discussions by providing each with a vote when debating club matters.
Jonathan Collura joins as an Associate Director meanwhile, having showing an interest in the club from the United States where he is the Managing Director of a capital placement and management consultancy and is also owner of Nebraska club, Bugeaters FC.
Club Chairman, Brian Porteous, said: "I'm delighted Gary and Andrew have accepted our approach for them to accept full director status and I'm also very pleased that Jonathan has agreed to the team. I'm looking forward to the entire board continuing to work as one and continuing to progress the club."
Gary, who is based out of South Lanarkshire and who joined the club in March 2020 said: "It's been a difficult time for everyone involved since I arrived at Berwick, but every Director and volunteer has pulled together. We've made huge changes off the pitch and more recently made substantial changes to our playing squad and management team.
"My original remit was in partnerships, but I also took on the role of the club's Covid Officer shortly after joining – which gave me some sleepless nights I can tell you! Within my original remit, I have worked hard to network and hopefully the club will see the benefits of this very soon.
"There are still some major challenges ahead, but every single one of us is up for them. I'd like to thank both the Chairman and Vice-Chairman for giving me this opportunity."
Andrew Allan hold similar values to Jonathan, and with 40 years experience in property management in a large corporate, has been well placed to lead changes proposed in the clubs tenancy agreements for the Shielfield Complex – which are already showing capital and revenue benefits for the club.
Andrew shared: "I've spent much of my working life building relationships with key stakeholders inside and outside my previous firm, so I've really enjoyed not just getting to know Jamie and Kevin from our tenants, The Bandits and TRFC, but building trust, respect and a friendship with them, along with a mutual desire to work together for our common good and that of the community we serve."
As Chairman of the Supporters Trust, Andrew brings a voice of the fan to the board, something he and all our Directors hold dear.
Andrew added: "The team on the Club Board is one that, with the diverse and complimentary range of skills and experience they possess, is one that any corporate entity would be fortunate to have. I feel very privileged indeed to be asked to join this group as a Director and help our club grow, develop and progress."