29th December 2020
Berwick Rangers F.C PLC – Annual General Meeting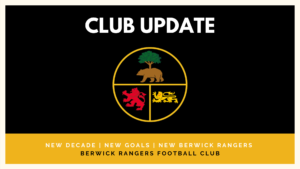 The club is pleased to formally deliver advance notice of the 68th Annual General Meeting (AGM) of Berwick Rangers FC PLC, to be held on 28th January 2021 at 19:00.
Given current restrictions, the AGM will be held on zoom. Those wishing to attend are asked to register, in advance, for the event here.
The official notice document can be read here.
Members requiring an electronic copy of the Audited Accounts to 31 May 2020 can request this by emailing club@berwickrangers.com giving full name, address and shareholding information.