Scott-Taylor Mackenzie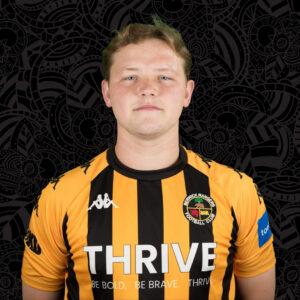 Date of Birth: September 13, 1996
Previous Clubs: St Johnstone (youth), Livingston (youth), Lothian Thistle, Kelty Hearts, Gala Fairydean Rovers
Hometown: Edinburgh
Scott agreed to join the club in March 2021, signing a pre-contract agreement during the enforced break which would go onto fully curtail the 2020/21 campaign.
Nevertheless, Mackenzie managed to impress in the short time he did have in his season prior to arriving at Shielfield Park, netting eight goals in 12 appearances from midfield for Gala Fairydean Rovers, making him the league's third top scorer for the shorter season.
Scott-Taylor will be with the club until at least summer 2023 having penned a two-year deal, and also has experience in the league with Kelty Hearts. He has also been with Lothian Thistle, as well as the youth systems of Livingston and St Johnstone.
Player Sponsor
Scott-Taylor is sponsored by the group of supporters: Craig Forsyth, Jack Mathieson, Allan Rodger, Mark McLeman, Martin Landels & James Inkpen.
The majority of the group also collaborated to sponsor a player for the past two seasons, regathering to extend their support for another season by chipping in together to support Mackenzie in his debut campaign with the club.
The club thanks the sextet for their superb continued support!