John Ward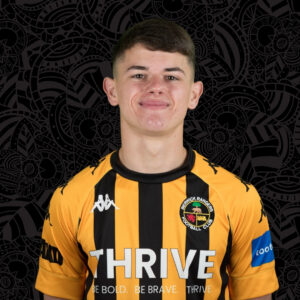 Date of Birth: October 15, 2003
Previous Clubs: N/A
Hometown: Edinburgh
Ward signed on amateur terms in November 2020 after a spell on trial at Scottish Premier League club St Johnstone and was immediately added to the matchday squad for the club's South Region Challenge Cup tie against Upper Annandale.
Playing at left wing-back, Ward impressed on his debut, helping to set-up Berwick's second and third goals in that match, supplying Jack Wright and Calum Smith.
Overall, Ward featured five times in all competitions in the 2020/21 season and, in February 2021, he signed a contract extension until summer 2022.
Player Sponsor
The club would like to extend its thanks to fan Josh Turnbull, who agreed to sponsor Ward until the end of the 2021/22 season.
Josh was brought up in Berwick and currently lives and works in the town, and started going to games in 2013 with a few friends, which then turned into following the team home and away.
A season ticket holder since 2015, Josh has seen plenty – from highs of the last 16 Scottish Cup tie against Hibs, to lows of witnessing the club being relegated from the SPFL – but doesn't want to look back and is eager to see what the future brings.
Speaking about his sponsorship, Josh added: "I'm pleased to be sponsoring John. I wish him all the best, hope he enjoys his time with the club, and look forward to seeing him progress on the pitch with the club."