Ciaran Heeps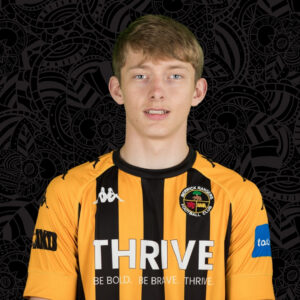 Date of Birth: August 6, 2004
Previous Clubs: Hutchison Vale (youth), Rangers (youth)
Hometown: Falkirk
Talented youngster Ciaran Heeps has been training with the 'Gers since as far back as September 2020 and was due to sign on for the club for the latter stages of the 2020/21 Lowland League season, only for that to be put on hold as things came grinding to a halt due to the pandemic once again in early 2021.
Nevertheless, in February 2021, the left-footed attacking midfielder did sign on for the 2021/22 campaign and all at the club are looking forward to watching Ciaran continue his development.
Player Sponsor
Ciaran's kit is sponsored by supporter Gavin Marshall.
Based in Norwich, Gavin said: "I have always enjoyed football and often watch Scottish football. So when we decided to go on holiday in Berwick-upon-Tweed, I made it my mission to find out about the local football and of cause this was Berwick Rangers.
"On holiday I was able to find out more about Berwick Rangers from a local shopkeeper. From this I was able to find the ground – sadly no games were on that year but the following year myself and my children were able to attend a game. We loved the friendliness that we experienced and the atmosphere around the game was good too. We now visit to watch a game when we can and always enjoy the experience."
The club would like to thank Gavin for his kind and continued support, and look forward to welcoming him and his family back to Shielfield Park during the upcoming campaign.