23 Ali Forster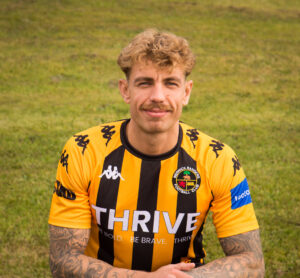 Date of Birth: December 23, 1990
Previous Clubs: St Johnstone (youth), Alloa Athletic (youth), Arniston Rangers, Newtongrange Star, Musselburgh Athletic, BK Forward
Team Supported:
Footballing Idols:
Forster started his career in the youth set-ups at both St Johnstone and then Alloa Athletic before joining Arniston Rangers and Newtongrange Star.
In 2014, he stopped playing football for a short while as his job as a car salesman took priority but a call from then Musselburgh Athletic boss Calvin Shand saw him return to the junior football scene for the 2016/17 season.
From there, he got the opportunity to play football professionally with fourth-tier Swedish league outfit BK Forward, where he spent a season in 2018. Following the expiration of his contract, Forster rejoined Newtongrange Star in December 2018 and signed on the dotted line for the 'Gers for the 2019/20 season.
Equally effective in both midfield and at right-back, Forster was a consistent performer throughout the club's inaugural Lowland League campaign and was one of the first players to re-sign for the 2020/21 season.
Forster's younger brother is Jordon Forster, who spent the 2012 season on loan at the 'Gers before going on to play more than 60 times for Hibernian. After a spell in England with Plymouth Argyle and Cheltenham Town, Jordon is back in Scotland with Dundee.
Player Sponsor
Ali's kit is sponsored by Gavin Marshall, who is now in his second season of sponsoring the midfielder's kit.
Based in Norwich, Gavin said: "I have always enjoyed football and often watch Scottish football. So when we decided to go on holiday in Berwick Upon Tweed, I made it my mission to find out about the local football and of cause this was Berwick Rangers.
"On holiday I was able to find out more about Berwick Rangers from a local shopkeeper. From this I was able to find the ground – sadly no games were on that year but the following year myself and my children were able to attend a game. We loved the friendliness that we experiennced and the atmosphere around the game was good too. We now visit to watch a game when we can and always enjoy the experience."
The club would like to thank Gavin for his kind and continued support, and look forward to welcoming him and his family back to Shielfield Park during the 20/21 campaign.