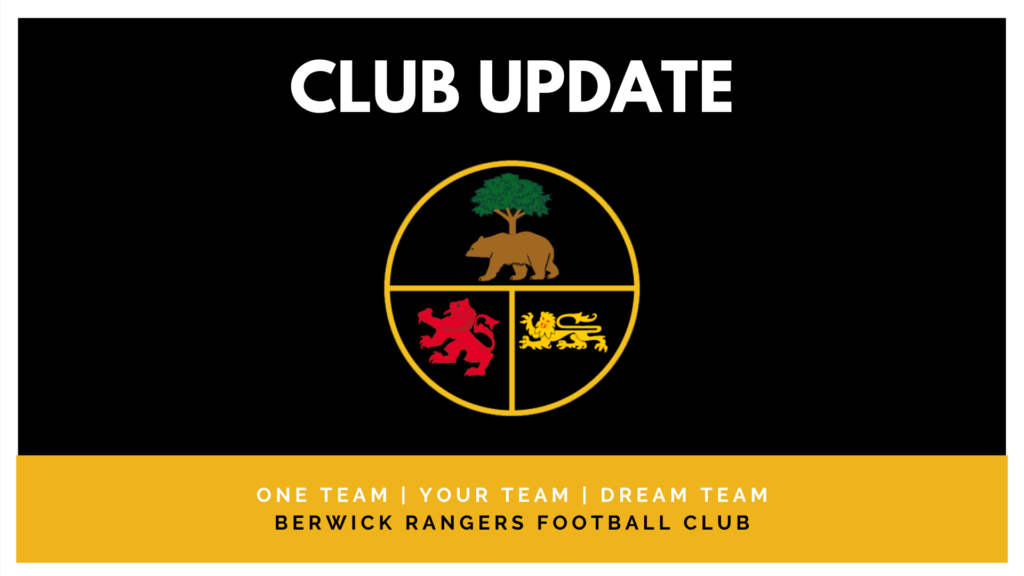 Following on from a club statement issued to supporters on 10th May informing fans of the club's decision to vote in favour of the Lowland League's proposal to admit Rangers and Celtic youth sides for the 2021/22 campaign, the club has received further feedback from supporters who had not formally registered their views prior to the given deadline.
In addition to inviting supporters to share their feedback directly with the club via email, the club also liaised Berwick Rangers Supporters' Club and Berwick Rangers Supporters Trust before arriving at a final decision. Amongst the efforts of our official supporters organisations was a poll to members, helping capture an even wider picture of fan opinion on the matter.
In the context of the short timeframe available to both come to and make a decision, the club recognises that not all supporters will have had the opportunity to submit their input even in spite of the club's best efforts to canvas and consider as wide a selection of supporters as possible. 
As per the club's update on Monday past, the club has registered an initial vote to pass the proposal to admit Colts teams to the league this season. However, final ratification of the decision is not yet official and is subject to a further vote in the very near future.
In light of further feedback offered to the club, Berwick Rangers is inviting supporters who are registered shareholders, Supporters Trust, Supporters' Club or Club 1881 members to a presentation on Wednesday 19th May at 8:00pm to be held via Zoom. 
On the video call, representatives of the club's Board of Directors will guide supporters through the full details of the proposal, as laid out by the Lowland League to the club.
Following this presentation, Directors will invite questions from supporters which will be answered to the best of their knowledge, before moving on to a private vote which will be tallied with previously registered views and ultimately help inform the club's stance when the Lowland League look to ratify the proposal at a later date.
Shareholders, Club 1881, Supporters' Club and Supporters Trust members who have already registered their thoughts need not attend as their views have already been accounted for and will be included in any final 'totals', but are free to and encouraged to join the session should they so wish.
Unfortunately, in the interests of accurately representing the opinion of those we know to be our supporters and ensuring these views are informed by fact, any further views registered via social media or email will not be considered. With fans already having had an opportunity to share their views, the club would like to ensure all further 'votes' are made with the clarity and understanding of the contents of the proposal that will be presented during the session.
To register for the Zoom session and attend the presentation, Q&A and vote, please complete this form.